Eats365 Showcases How to Take Your F&B Business Online at HOFEX Hong Kong 2021
New tech that helps you take your restaurant business online on a budget!
---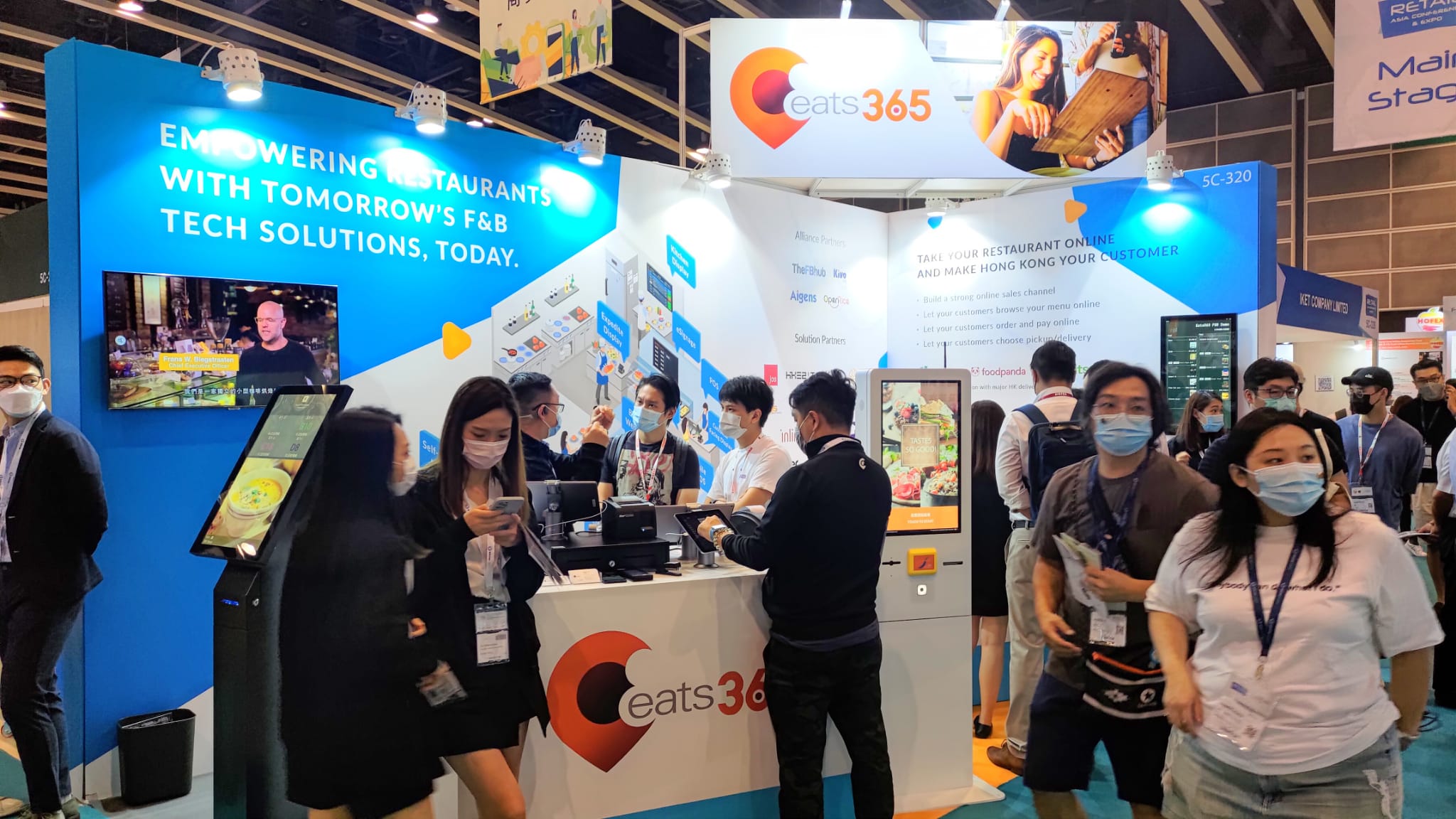 What is HOFEX?
HOFEX is "Asia's leading food and hospitality tradeshow." The show organizers aim to invite innovative and industry-leading companies to showcase their F&B-related products to customers who want to experience what the future of the restaurant industry has to offer. Boasting a history of over 30 years, HOFEX has built its reputation on ensuring that the show is high-quality and truly highlights new innovations to visitors. It is this commitment to only accepting forward-thinking companies, which helps them to attract a vast number of visitors year-after-year.
Why Did Eats365 Exhibit at HOFEX 2021?
Given that HOFEX is a great location to showcase the newest innovations and progress that Eats365 has made to their cloud-based F&B solution, it was an easy decision to exhibit at HOFEX. There are also several key benefits that Eats365 could leverage at HOFEX that would be difficult to do so under normal circumstances. Some of these benefits include:
1. Live Demos
Often when a new customer shows interest in Eats365's products, they make contact through emails or phone calls. While sales staff can give them a good idea of what Eats365's products do and how they can help, there's nothing that can substitute a live demo. 
2. Visitors Interested in F&B
Targeting an audience that is interested in the F&B industry can be tricky at times. However, at an event like HOFEX 2021, visitors are almost certainly interested or involved in the F&B industry, which makes the tradeshow a great venue to interact with customers who would find value in our products.
3. Forge Partnerships
Aside from meeting new customers, Eats365 is always on the hunt for new partners to work with. Eats365's F&B solution integrates with a wide range of third-party companies to offer customers exceptional value and market advantages. Some of the partners that Eats365 works with include companies like OpenRice, Jos, Passkit, Kivo, SevenRooms, oasis, Global Payments and much more. 
Being able to meet new potential partners that could help increase the robustness and usefulness of Eats365's F&B solution would not only be beneficial for the company, but also to Eats365 customers, who would have access to new features and tech down the line.
What Was this Year's Message For the F&B Industry?
Each year that Eats365 exhibits at HOFEX, the company does so with a specific message or innovation in mind. In 2019, for example, the message was all about 'Powering the Future of Dining' with an emphasis on bring your own device (BYOD) technology.
This year, Eats365's booth was themed around "Taking Your Business Online." Of course, with the global pandemic hitting the F&B industry hard, one of the new innovations that restaurants have had to adopt is incorporating an online aspect into their business model. For example, online delivery, online apps, a web presence and more help to create online touchpoints for customers to remotely interact with F&B businesses. 
Eats365 has been working hard on a new suite of online features that adds exceptional value for restaurant owners without breaking the bank. Instead of letting COVID-19 grind restaurant businesses to a halt, Eats365 developed an Online Ordering Suite, comprised of the Eats365 Marketplace and Merchant Branded Web. These features let restaurant merchants build a custom online presence, reach more customers, protect their staff, make the most of food delivery and keep their revenue flowing in these difficult times.
How Did Eats365 Demonstrate the Efficacy of Its F&B Solution?
At a tradeshow as prestigious as HOFEX, it becomes important to  not only display and talk about new products, but to actually demonstrate their potential and efficacy in the real world. Eats365 aimed to show the real-life success of its F&B solution to HOFEX visitors in a number of ways.
1. Live Demonstrations
As mentioned previously, live demos are very important in showing the real-world potential of Eats365's products. Having a large booth at HOFEX 2021 allowed Eats365 to have all of its various products and services on show for visitors to test and experience for themselves. Given that Eats365's F&B solution aims to connect the disparate parts of a restaurant business under one platform, there were plenty of Eats365 staff members on hand to demonstrate this vision in action. 
Staff members could also answer visitors' questions and help to demo how different products, services and integrations worked. In all, Eats365 was able to demonstrate many of the following products that make up its F&B solution: POS, mPOS, Photo Menu, Queue Ticket Kiosk, eSignage, User App, Kitchen Display System, Expedite Display, Customer Facing Display, Self-Order Solutions, Online Shop Features and much more. 
2. Video Testimonials
One of the best ways to prove that a company's products are legitimate and have a solid track record of success is through customer testimonials. Eats365 made sure to have a series of video testimonials from satisfied customers playing in their booth so that interested visitors could understand which Eats365 products customers were using, how those products benefitted their businesses and whether they had worked to improve business performance. 
3. Custom Consultations
Given that Eats365 aims to introduce tomorrow's technology today, it stands to reason that some visitors might have been curious as to how Eats365's F&B solution might be able to help their businesses. This is where Eats365's dedicated team of sales professionals would be able to perform a detailed analysis of visitors' businesses and suggest products and services that could help. Best of all, Eats365 has designed its F&B solution to remove the barrier to entry, whereby customers can pick and choose the modules and services they like and create a custom solution for their business that fits within their budget. 
Success at HOFEX!
The Eats365 team was able to meet and help a wide range of visitors from various sectors of the F&B industry this year. By showcasing how their F&B solution could power the new online revolution, Eats365 was able to demonstrate not only the benefits of utilizing a cloud-based F&B solution, but also how restaurant merchants could increase their online presence and improve the efficacy of their customer touch points.
Eats365 looks forward to seeing you at next year's HOFEX where there will be even more great Eats365 F&B innovations on show that will help to propel the restaurant industry towards the future of dining!