5 Ways to Increase Christmas Sales in 2021 With Your POS
What point of sale features can make it snow cash this winter?
---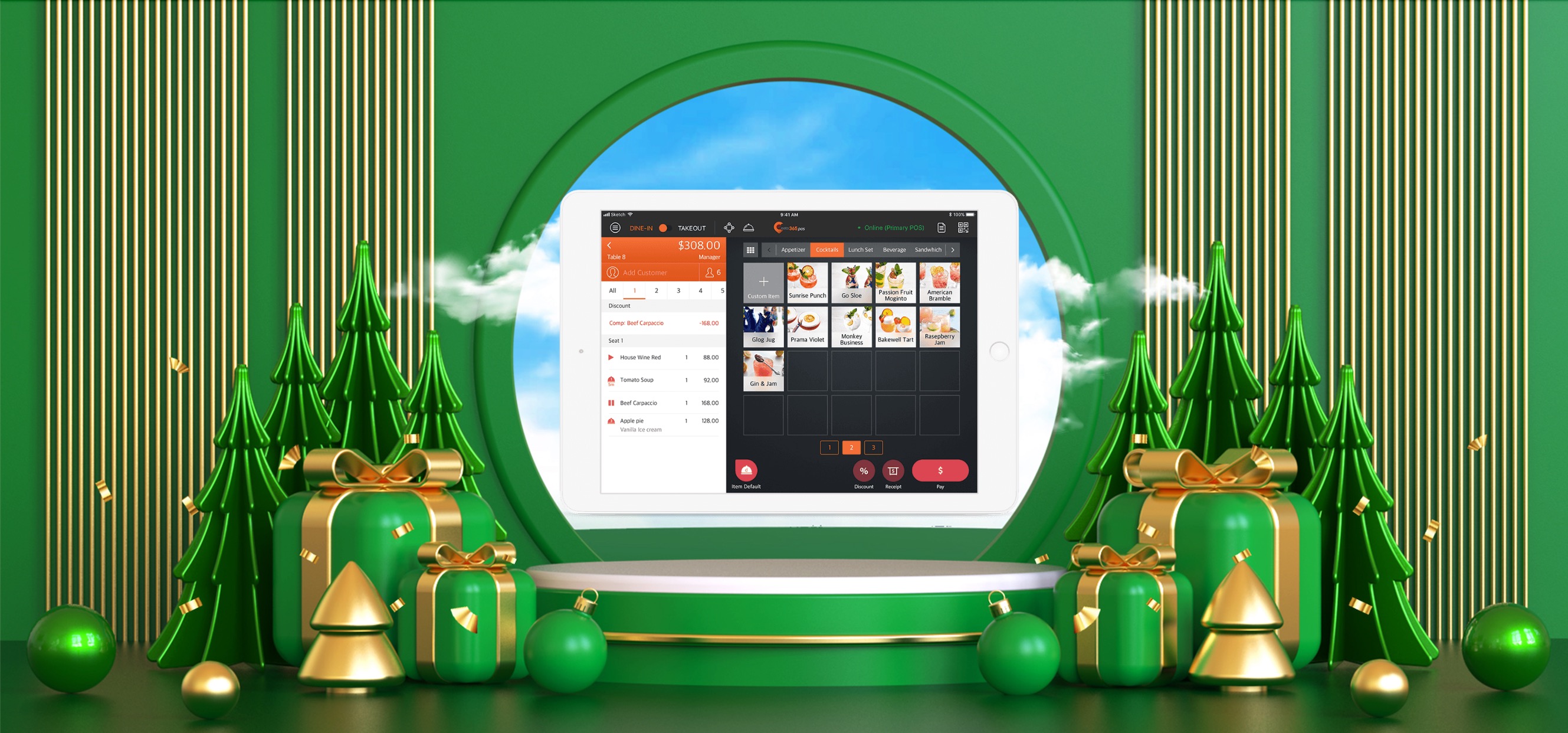 The Perfect POS Chemis-tree to Increase Sales 
Everyone wants to sleigh the competition during the Christmas season. It's a time of year where people tend to splurge much more in order to imbibe in the holiday spirit. For example, in 2021, Americans, alone, will spend over 1 trillion dollars on Christmas. 
The right POS in your corner can be tree-mendously beneficial in redirecting all that extra spending right to your restaurant. Remember, if you aren't attracting plenty of customers, it means that your competitors are. So, before the holiday season rolls around in full force, make sure that your POS can do these 5 things to boost your Christmas sales!
1. Customers Never Fir-get a Good Loyalty Program
Though you're trying to attract customers for the holiday season, you need them to return afterwards, too. Repeat business is the lifeblood of restaurants, and you'll want customers to feel right at home if they are visiting you for the first time during Christmas. 
Having a POS with loyalty CRM capabilities baked right in can help you encourage new patrons to join your restaurant's family, and you can even entice them with a juicy little Christmas present! Loyalty programs, especially ones with loyalty cards, can promote extra spending and offers a feeling of brand loyalty and extra value to customers who feel their patronage is valued when they visit your business.
2. Menu Flexibility is a Missle-Toast to the Holidays
During the Christmas holidays, you should be offering a few festive dishes to really coax in families and couples who want to imbibe in the festive spirit. However, changing your menu can be a real pain, especially if your POS isn't flexible and won't let you add in new options easily. This is where menu flexibility comes in. Adding new menu items should be something simple on your POS.
If your POS is able to connect to eMenus, you can change your menu offerings really easily, too. Paper menus can cost a lot to replace with new Christmas items, but an eMenu allows easy switching between a Christmas menu and your traditional one. If your POS is directly connected to your eMenu, you only need to make changes once in your backend Merchant Portal, and you'll be set to go!
3. Branch Out With Queue Management
Having queue management built into your POS can be great at making Christmas lines feel less like a burden. If your restaurant is busy, but has customers waiting outside, it can be a huge deterrent for interested customers. With POS integration to a Queue Ticket Kiosk, or even just with queuing built into your POS, you can reduce lines and free up your restaurant frontage to make waiting seem less daunting for interested customers. 
With the right Queue Ticket Kiosk, you can even give customers queue tickets with scannable QR codes to let them know their waiting status directly on their mobile phones, so they can do other things while waiting!
4 Delivery is a Christ-must!
Give your customers a reason to celebrate even if they can't visit your restaurant physically, but still want to enjoy a Christmas meal at home. Delivery has become one of the most prevalent sources of restaurant income since the beginning of the global pandemic, so it's important that your POS allows you to receive incoming delivery orders and manage them accordingly. We're certain that restaurants with a delivery feature on their POS will have the final sleigh when it comes to winning the business of many customers. 
5 Payment Flexibility is Lit!
Since people will be spending extra during Christmas, offering them the payment flexibility to pay how they like can be a blessing in and of itself. Customers may actually decide to visit your restaurant solely because you give them the gift of choice. This is why having a POS that can integrate with local and international payment partners to give you the most payment options can really help you win the battle for Christmas customers against your competitors. 
A Good POS Tree-ts You Right!
Now you know which POS features to make use of this winter season. If your POS does not have any of the features we mentioned in this list, consider switching to one that does. You will be better equipped to attract customers all-year-round with this set of features, though they shine extra bright during the Christmas season!
Our site uses cookies to ensure you have the smoothest experience possible. Cookies help us save your preferences, keep our site secure and to gauge how effectively our site is performing. You can learn more by visiting our
Cookies Policy Page
,
Privacy Policy
or
Terms Page
.