New Feature: Apply Pre-defined Discount Reasons to Items From a List
Applying discounts to restaurant menu items can help boost sales and encourage customers to try new dishes, as well as incentivizing them to come back for a repeat visit
---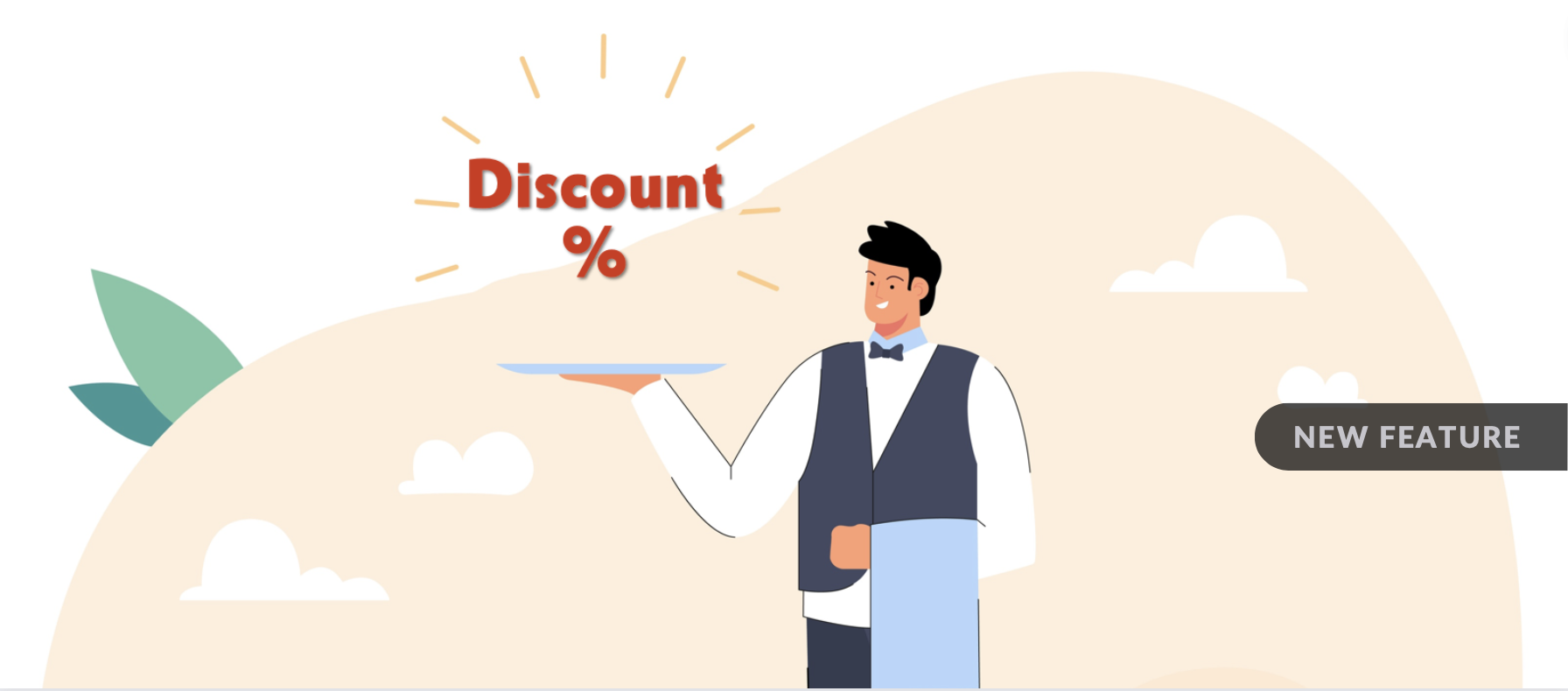 You can now add a custom list of discount reasons directly into your POS to apply whenever you give out a discount. This helps in multiple ways:
It lets your staff clearly record why discounts were given out on specific items

It lets you track which types of discounts led to the most sales so you can keep successful discounts and remove ones that don't work so well

It helps your restaurant organize your discounts in a way that makes sense
Why Do Restaurants Use Discounts?
Discounts are a great way for restaurants to entice customers and increase sales. Offering discounts can help generate buzz about the restaurant and create loyalty. Restaurants can offer discounts on certain days or times of the week, as well as special deals for regular customers. Discounts can also be used to reward customer loyalty and encourage people to come back often. Additionally, discounts can be used to move slow-selling items and boost profits. Offering discounts is a great way to attract new customers and keep existing ones coming back for more.
What Common Types of Discounts Can You Apply to Menu Items?
Restaurants often use discounts as a way to attract customers and increase sales. Discounts can come in many forms, such as:
percentage-based discounts,

fixed-amount discounts,

free item or meal offers,

loyalty reward programs
Percentage-based discounts are when a customer receives a certain percentage off their total bill amount. Fixed-amount discounts are when a customer receives a set amount off their total bill. Free item or meal offers are usually given out as part of seasonal campaigns or promotions, and can be anything from complimentary appetizers to full meals. Loyalty reward programs allow customers to accumulate points every time they dine at the restaurant and use those points to redeem various rewards such as discounts, free items or meals and more. Discounts are a great way to reward loyal, repeat customers while also encouraging new ones to visit the restaurant.
How to Set Up Your Own List of Pre-defined Discounts
In the side menu of your POS, tap on "System Preferences" under "Advanced Settings.
Next, tap on "Preset Discount Reason".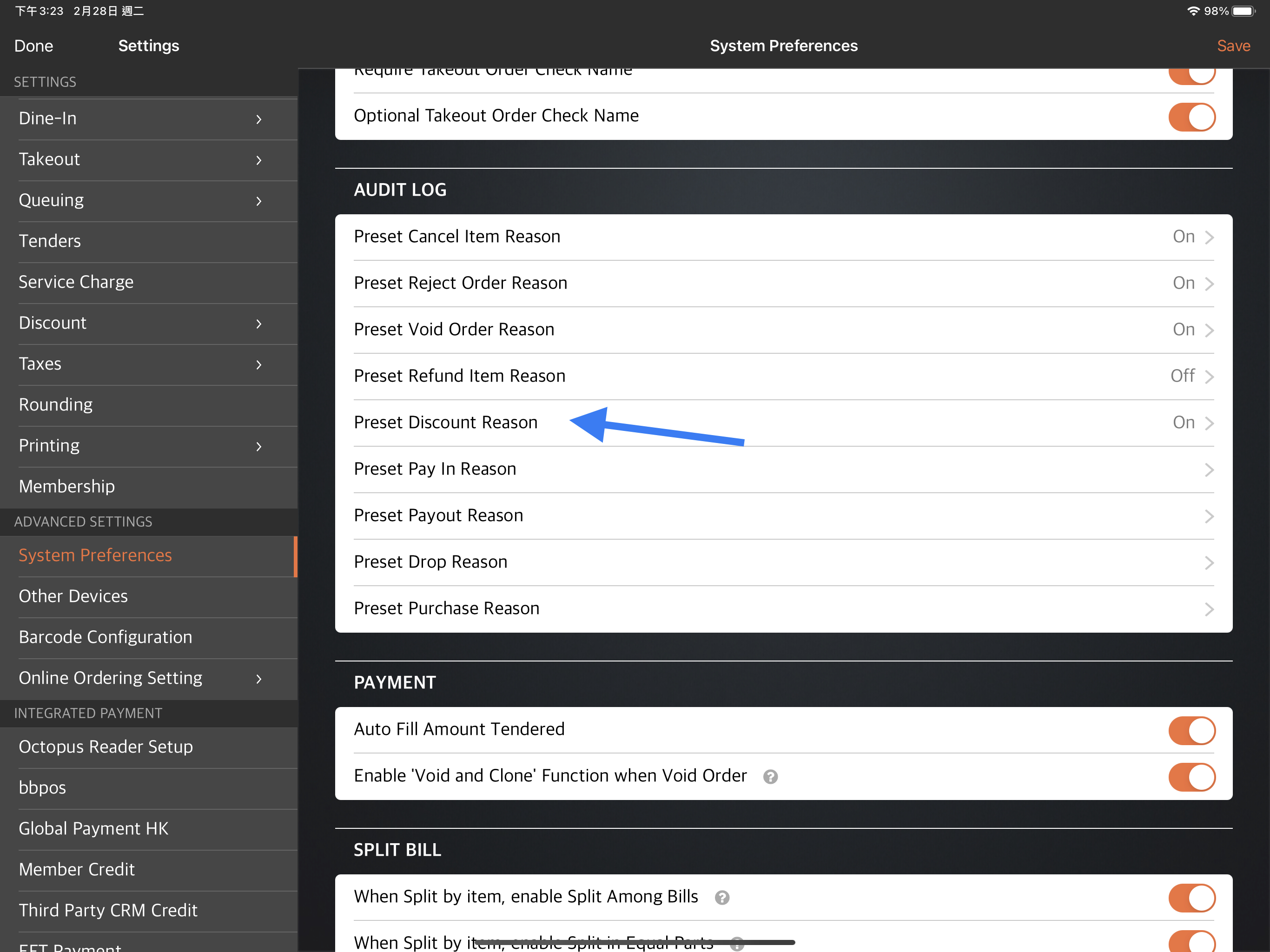 Tap on "Discount Request Reasons".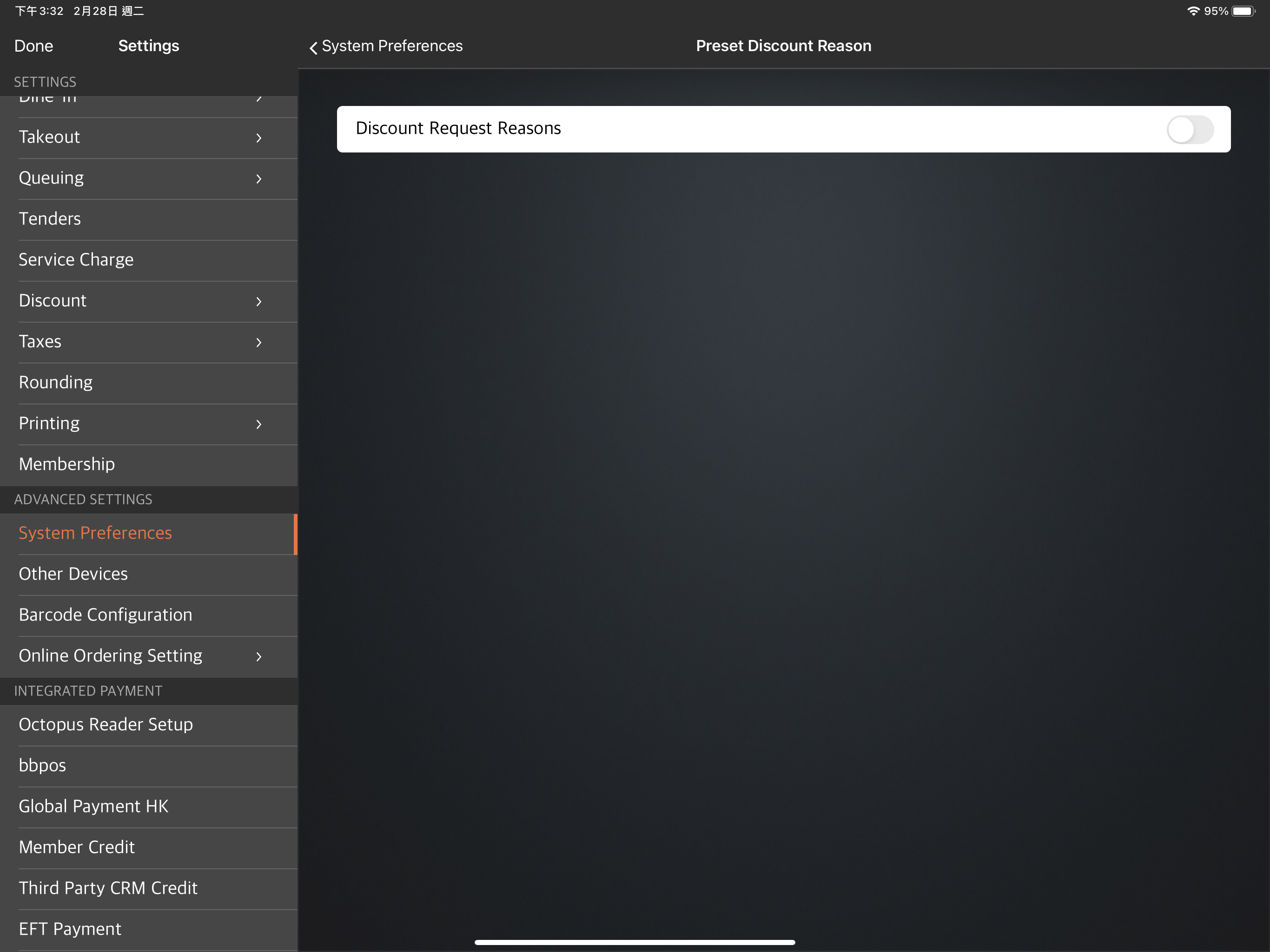 You can toggle on the "Discount Request Input Message" if you want staff to be able to add additional messages or information pertaining to selected discounts.
Tap on "Preset Reasons" to begin making your discount list.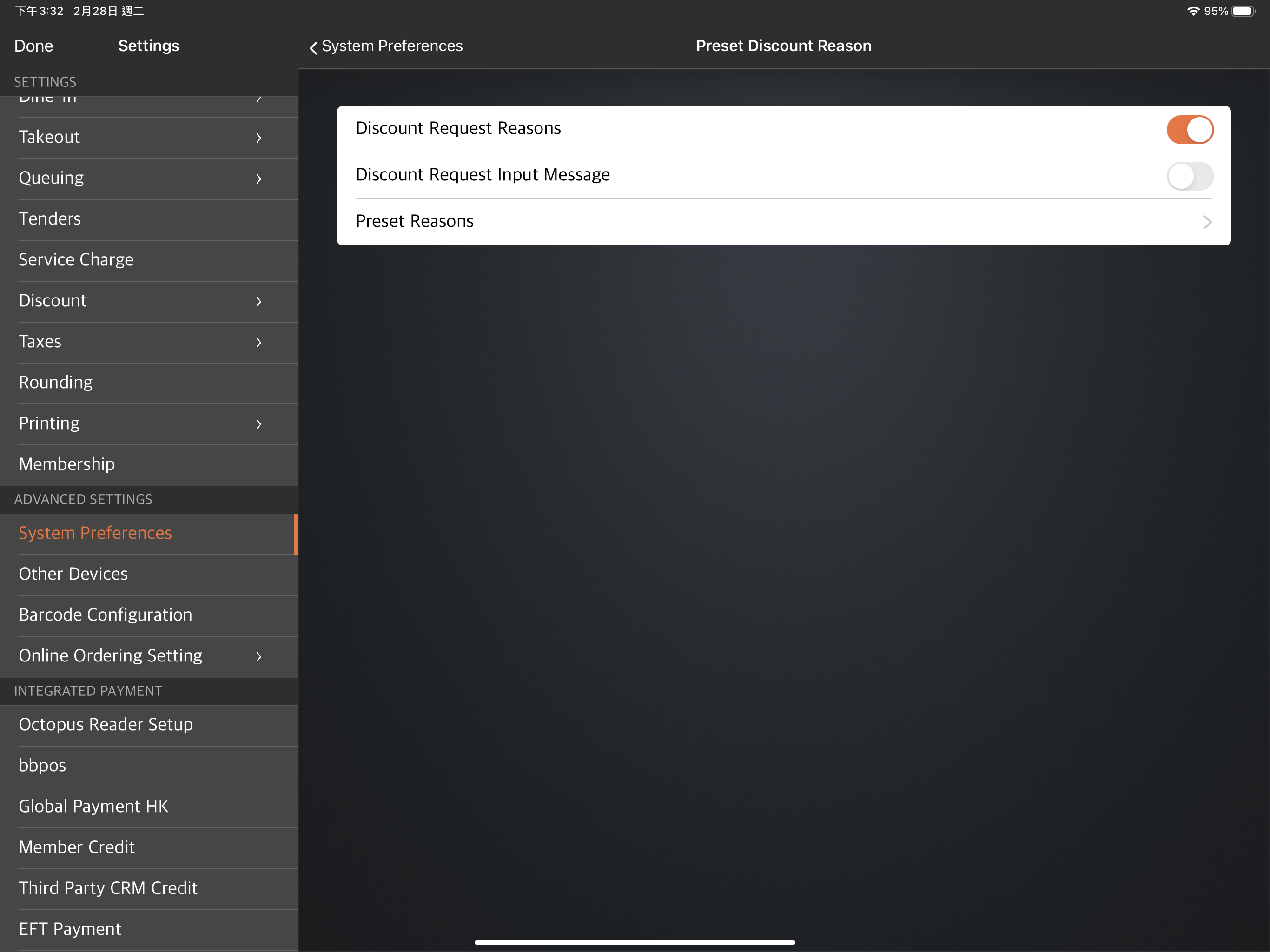 Here, you can "Add Reason" to create a new discount reason or "Edit" to make changes to existing discount reasons. Both options are available in the top right-hand corner of the screen.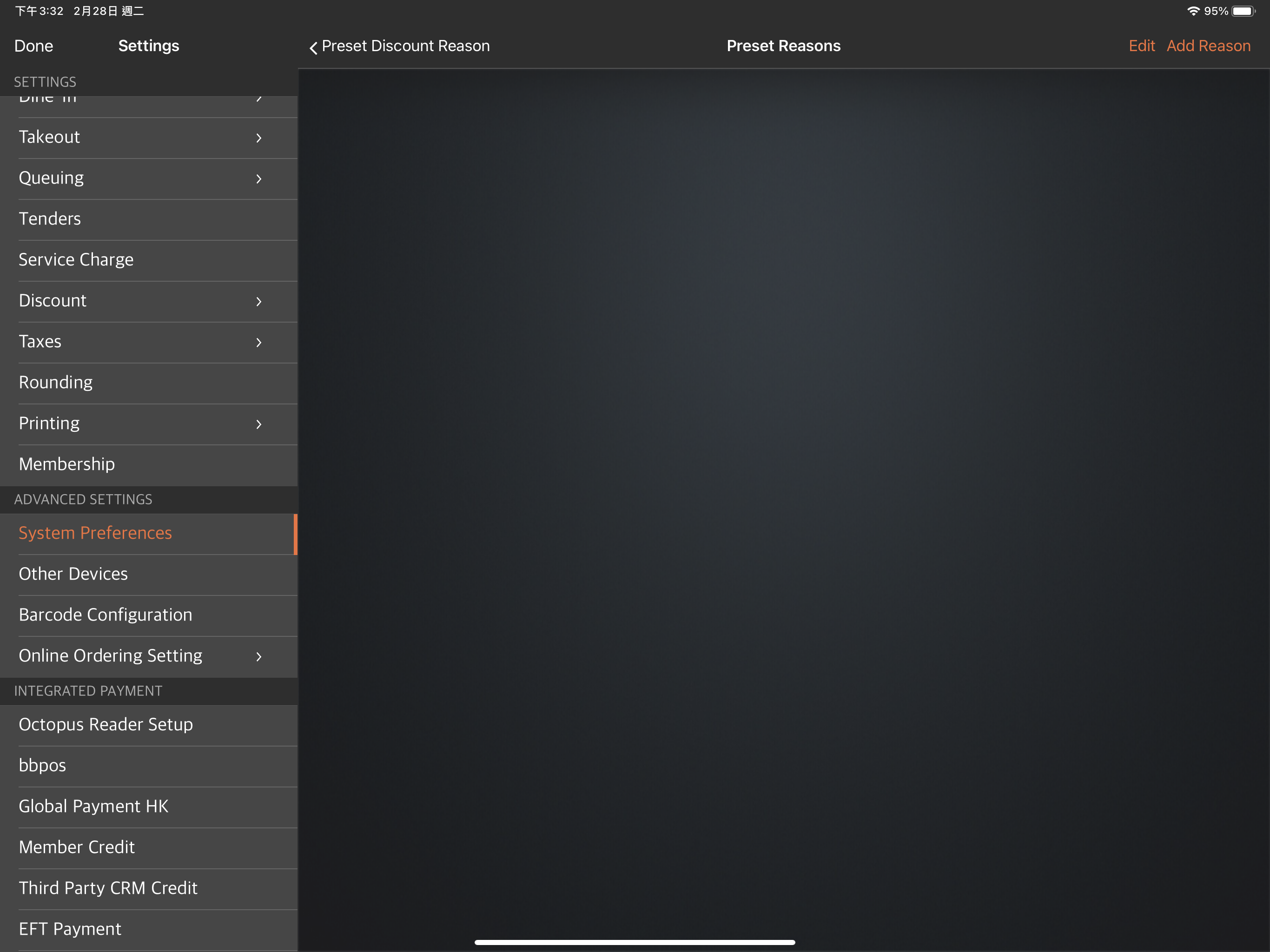 When adding a reason, fill in the name of the discount reason and tap on "Save" when you're done. Repeat this process to add as many discount reasons as you like.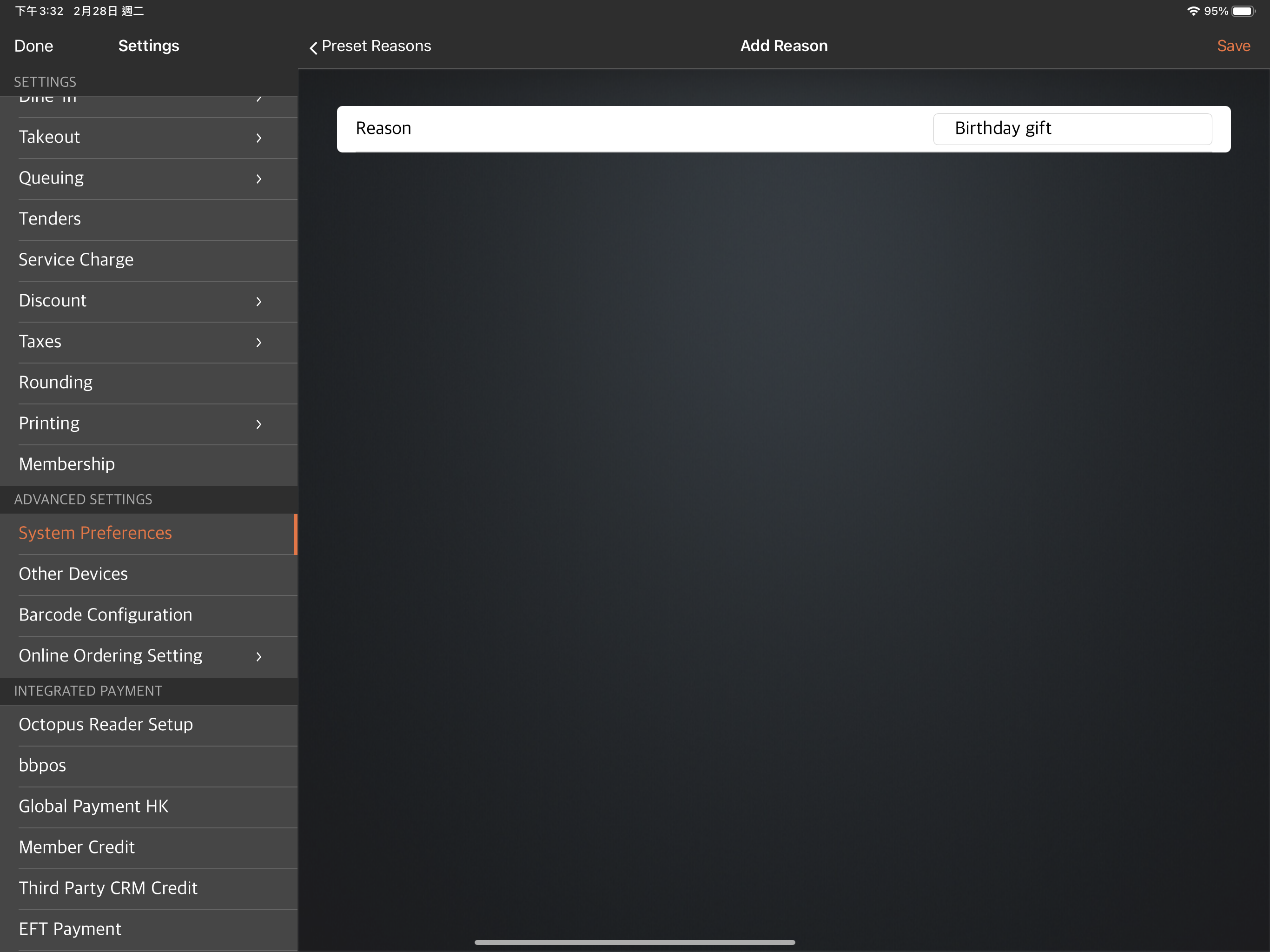 How to Add a Discount to an Item.
Start by selecting an item in any order.
Tap on the "Discount" option in the pop-up menu, indicated by a % sign.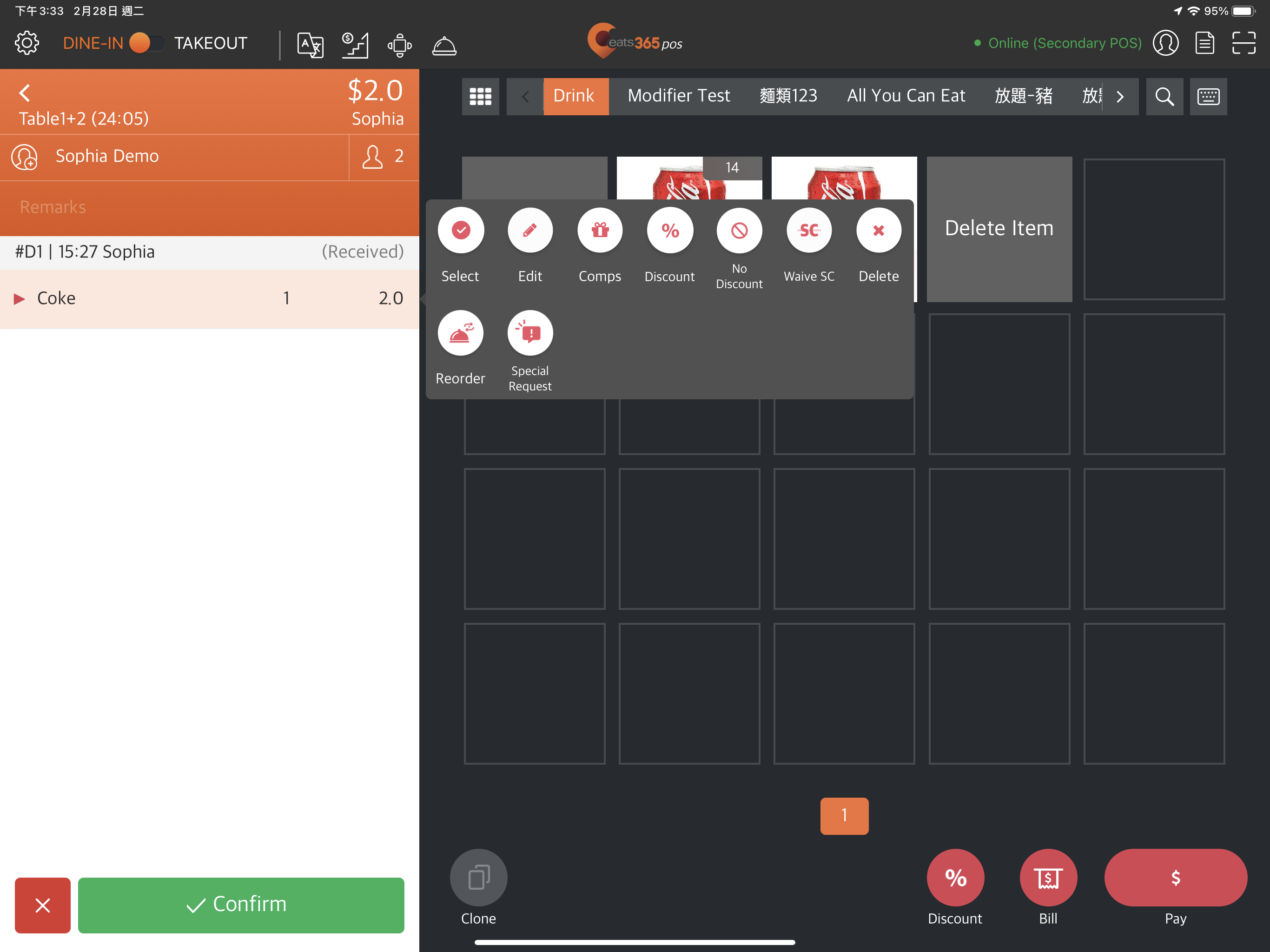 Choose the discount reason from the list you created earlier and add a message if you toggled on this feature.
You can then add the discount amount or choose to apply a discount percentage to the selected item.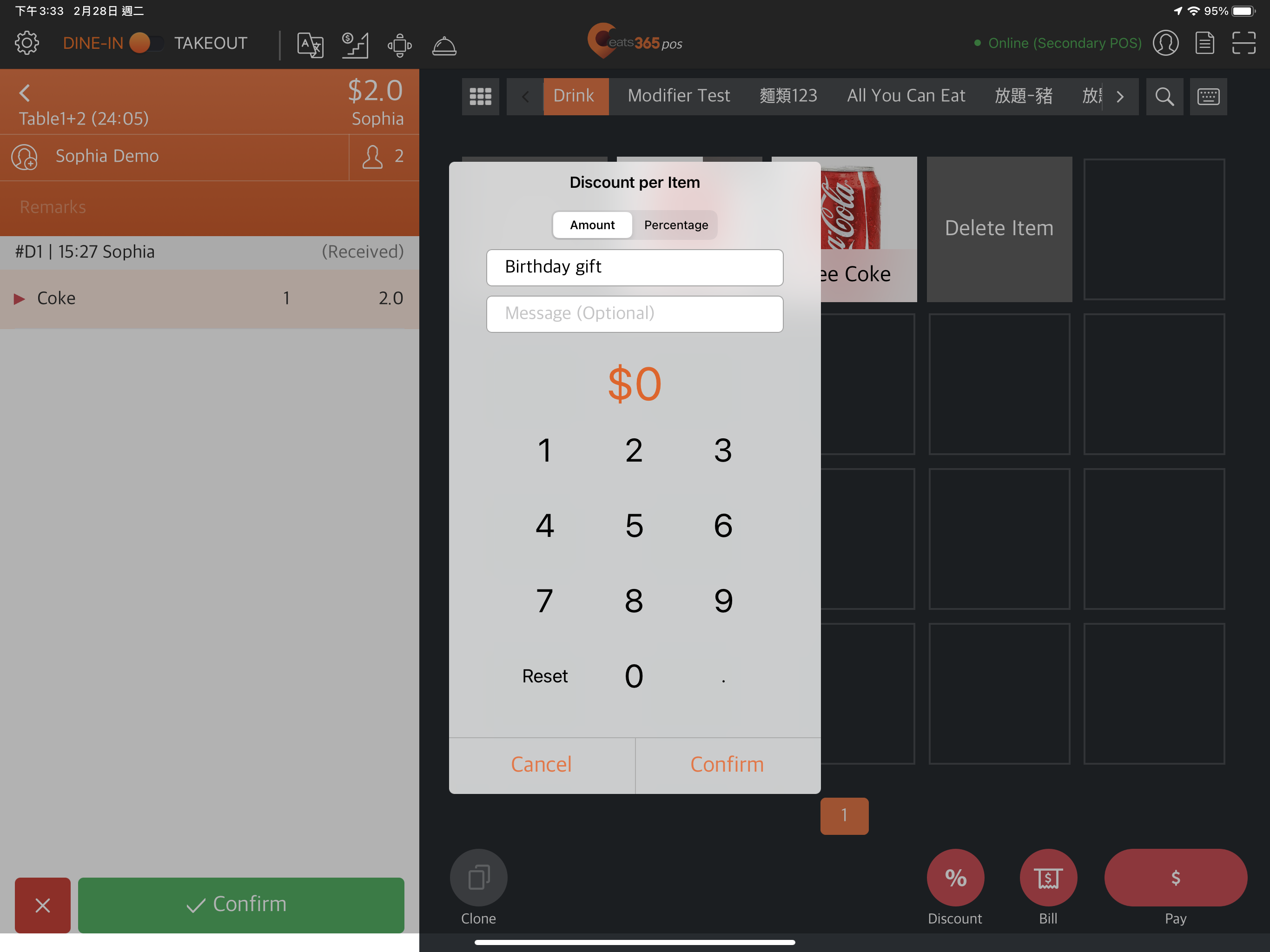 If you'd like more information about this feature or about how Eats365 can help your restaurant business, get in touch with an expert today!
Our site uses cookies to ensure you have the smoothest experience possible. Cookies help us save your preferences, keep our site secure and to gauge how effectively our site is performing. You can learn more by visiting our
Cookies Policy Page
,
Privacy Policy
or
Terms Page
.