5 Ways to Get Customers to Love Your Restaurant Service
Follow these 5 simple steps and watch as customers return and offer repeat business
---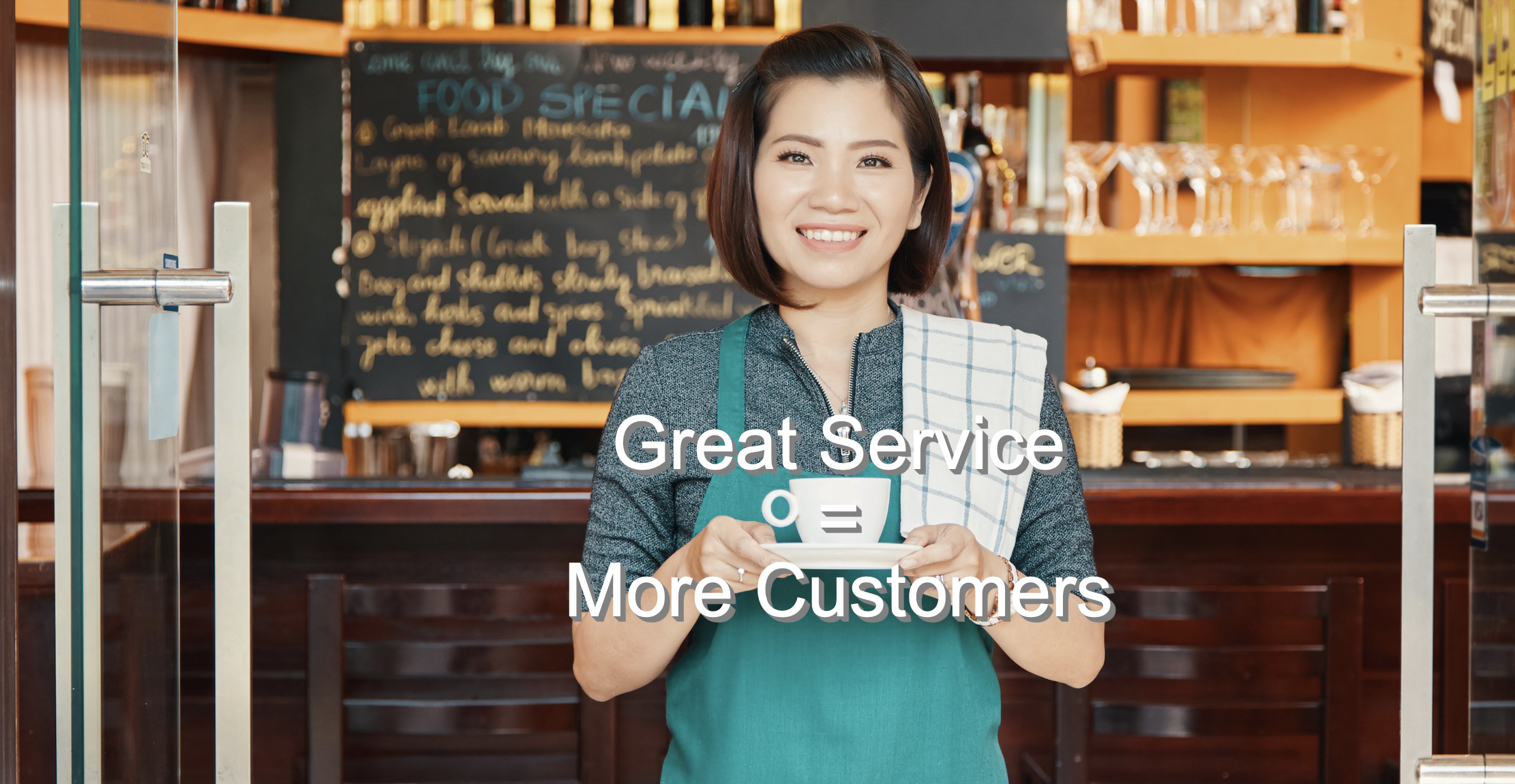 Good Service Serves Restaurants Well
Customers may be drawn to restaurants through online platforms where enticing pictures and reviews help provide insight. However, what determines if customers come back time and time again, is high-quality food and service. In this article, we will not discuss food in depths, but rather, we will focus on restaurant service. A customer's experience with staff, managers and owners will undoubtedly create an impression that, in many cases, even outweighs that of the food, itself!
If a restaurant only prioritizes food over service, it may be enough to keep some customers returning. However, a lot of others will be put off and might even leave negative reviews or feedback online. To avoid bad publicity and a lack of repeat business, here are 5 ways you can get customers to fall in love with your restaurant's service.
1. Train Your Staff
All members of staff should be trained and taught the same guiding principles that your restaurant adheres to. This will prevent different levels of service being provided by different members of staff. Creating a handbook or guide for staff to study can be a good way to ensure consistency across the board. Your guide can include any or all of the following things:
• How food and drinks should be served
• How tables should be cleared
• How staff should approach customers
• When staff should approach customers
• When to clear plates
• Bringing back checks promptly
• Uniform and dress code
• Speaking etiquette
• How to assess when a customer needs service or attention
When hiring staff, it is also good to measure their temperament, empathy, patience and manners. Every interview process should not only take skills and experience into consideration, but also whether a potential future member of staff will be able to adhere to the restaurant's culture and service ethos.
2. Build Effective Staff Communication
Communication is one of the key elements that a restaurant needs in order to run smoothly. We've taken a look at staff-to-customer communication above, but what about staff-to-staff communication? Of course, if your staff don't have any training or way to share important information with one another, your restaurant will not be able to provide great service. Why is this? Well, here are a few reasons below:
• Slower customer service
• Greater chance for human error
• No teamwork
• Disconnected work practices between departments
• Unclear distribution of jobs
You can ensure that your staff work together like a well-oiled machine by trying a few simple things. First, you can introduce a cloud-based F&B tech solution that lets different departments communicate effortlessly. By implementing modules like a point of sale (POS), Kitchen Display System, Queue Ticket Kiosk and more, relevant data is shared automatically, without the need for manual input. This means that each department receives accurate information and can work seamlessly together.
You should also have regular team meetings where suggestions can be made and roles are clearly-defined. If every member of staff has a clear purpose, your restaurant will run far smoother.
3. Don't Keep Customers Waiting Long
If customers experience long waiting times when visiting a restaurant, chances are that they will almost certainly have a negative experience – regardless of food quality. Let's take a look at some of the common ways in which customers end up waiting at restaurants:
• While making phone bookings
• Queuing for a table
• Waiting for food
• Waiting for a server
• Waiting for the bill
How can you ensure that customers don't have to wait long and can have great restaurant service? One idea is to automate the booking process. Modern POS systems can actually integrate with local booking softwares so that your staff will always be able to keep on top of booking. This will ensure customers don't need to wait during the booking process or when they arrive at the restaurant.
You can also incorporate BYOD queuing, where customers can use their phones to scan a QR code on their queue ticket and get real-time information on how much longer they need to wait for their table. This means that customers don't need to waste their time queuing in place and can do other things while they wait.
Automating the various disparate aspects of your restaurant business can also help speed things up. As mentioned earlier, cloud tech can connect various parts of your F&B business while sharing relevant information seamlessly between different departments - increasing efficiency and reducing errors. This increase in efficiency leads to less waiting time for food and for things like the bill.
Finally, you should always train your staff to notice when a customer needs service. Also mentioned earlier, if your staff are able to identify telling signs that customers display when they need something, they can reduce waiting time. Wait staff can also proactively do things like fill empty water glasses and replace plates that have gotten too dirty.
4. Take Customer Complaints Seriously
Whether made in person or online, customer complaints, feedback and comments should always be taken seriously by restaurant staff if you want to improve your restaurant's service. While receiving complaints of any nature can be frustrating, it is also likely that they can offer insights into how your restaurant business can better take care of customers. Make notes of common complaints and make sure to address them. Below are some easy ways you can appease customers who have a negative experience at your F&B business:
Acknowledgement
If a customer has complaints, let them speak with a senior member of staff to know that their complaints are being taken seriously. It can also help to verbally repeat the problem so that the customer knows that you understand.
Fast Response
Just as you don't want to keep customers waiting in queues, making customers wait when they're having a bad time is a seriously poor idea. Instead, respond immediately and make sure that staff are trained to remain calm and empathetic. This can often help to deescalate a situation rather than letting it get out of control
Freebies
Even a small, low-cost freebie can be a great way to pacify customers who are having a bad experience. Offering them something of additional value can appease their negative experience and actually turn it into something positive.
Questionnaires
Encouraging customer feedback is a great way to understand the root of the problem. People can be blunter online and by answering an anonymous questionnaire, you can get the unfiltered truth and react accordingly.
5. Use Restaurant Tech to Your Advantage
Restaurant technology can enhance any F&B business and enable it to provide exceptional service to customers. Though touched upon earlier, let's take a look at some of the ways adopting the right F&B solutions can turn your restaurant into a service powerhouse.
Use a Cloud-Based F&B Solution
The cloud enables technology that is used in different parts of your restaurant to share relevant data and communicate effectively together. This means that you can essentially automate redundant tasks like having wait staff take orders, write them down and then manually deliver them to the kitchen.
Make Use of CRM
Utilize customer relationship management (CRM) and Loyalty tools. Making the customer a central focus of your business is much easier with the right tech tools on-hand. Your F&B solution should come with an inbuilt suite of CRM features to help your staff and management team learn about customer needs and habits. This, in turn, can help them build effective customer-oriented sales strategies and boost the attractiveness of your business to customers. In addition, loyalty programs provide a feeling of belonging and brand loyalty when customers visit. By implementing a tiered loyalty system, customers always strive to spend more while also feeling like they are being given exceptional value by receiving freebies and perks along the way.
Get Online
Build an online arm to your restaurant business to convenience customers. This step will also aid in creating good will and boosting customers' impression of your business. Offering online ordering, online queuing, online payment and pickup/delivery services ensure that your restaurant can reach more customers while also giving those customers the option to interact with your business physically and online.
Boost Customer Service and Gain Customer Loyalty
When customers rave and compliment your business on its service, that's half the battle won. As long as your restaurant has great food and follows these 5 tips to make sure it also offers fantastic service, there's no reason why your F&B business shouldn't be able to outperform the competition and maintain a glowing reputation with customers.
Our site uses cookies to ensure you have the smoothest experience possible. Cookies help us save your preferences, keep our site secure and to gauge how effectively our site is performing. You can learn more by visiting our
Cookies Policy Page
,
Privacy Policy
or
Terms Page
.