What is Eats365's Queue Ticket Kiosk and How Can It Benefit Your Restaurant Business?
Queue Management Systems can help you reduce lines and waiting time while boosting turnover.
08 Feb 2021
What is a Queue Ticket Kiosk?
A Queue ticket Kiosk or Queue Management System removes the need for staff to attend to people who are lining up outside your restaurant. Instead, customers can approach a Queue Ticket Kiosk and get a queue number within a few taps of the screen. Customers can additionally enter in useful details like how many people are in their party so that they can be alerted when a table of the right size is available for them to sit at. 
In addition to serving new customers seeking a table, Queue Ticket Kiosks also displays the queue numbers that are ready to be seated. This way, waiting customers can be alerted when they can approach a member of staff to be seated. 
Queue Ticket Kiosks essentially serve as a convenient way to automate the queuing process for restaurants, which can help reduce the number of staff employed and ensure that menial tasks are not taking up too much of your staff's valuable time.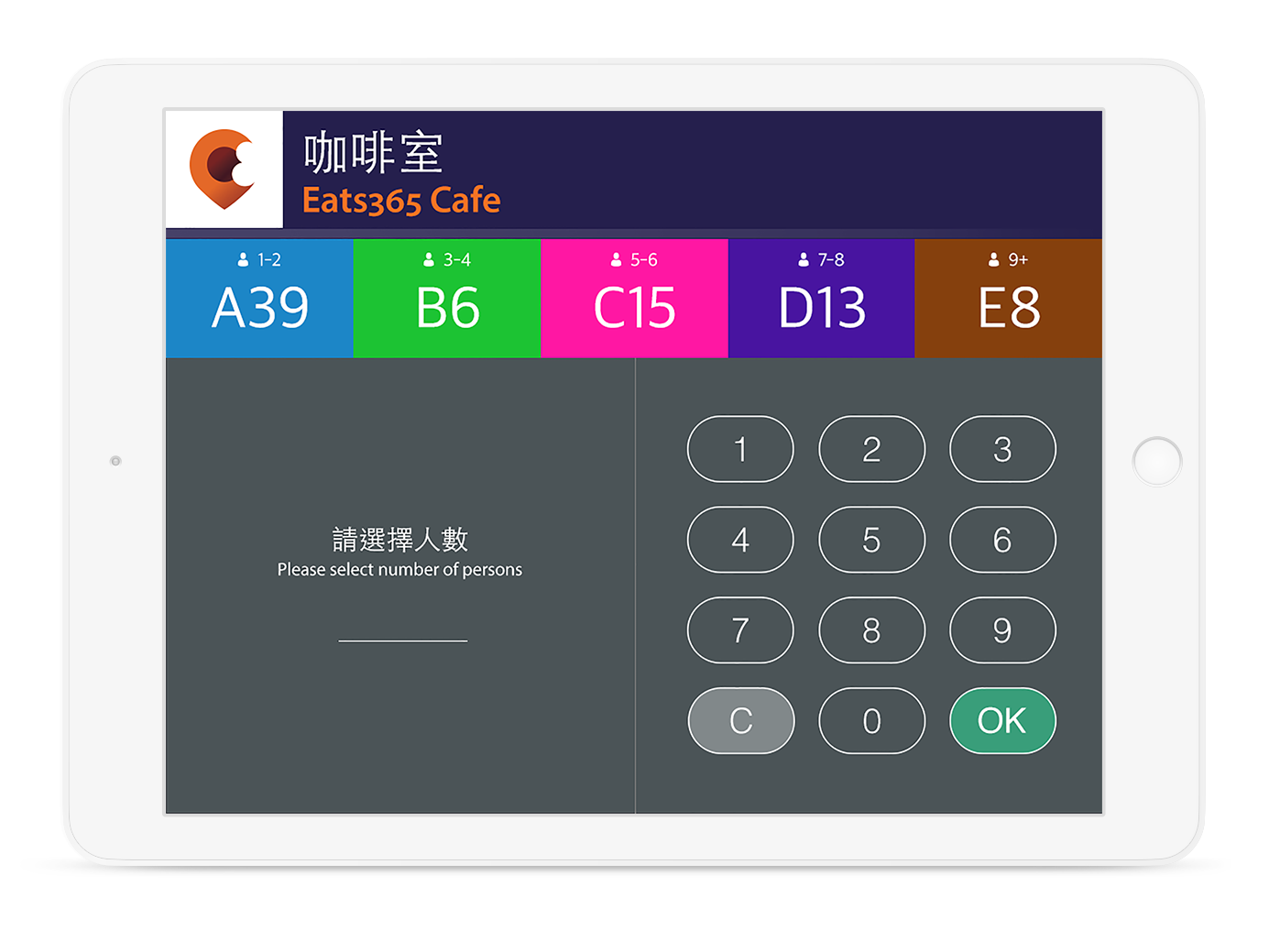 How is Eats365's Queue Ticket Kiosk Different?
There are two major differences with Eats365's Queue Ticket Kiosk when compared to others out in the market. First, Eats365's Queue Ticket Kiosk supports QR Code tracking. This means that when a customer receives a queue ticket after punching in the relevant details, their queue ticket will contain a QR code on it that can be scanned from their mobile phones at any time to show their seating status. 
The benefits of this system are numerous. Firstly, customers don't need to waste their time standing in line since they can check their table status right from their mobile phones wherever they may be. In addition, queues outside your restaurant will shrink as a result and not put off other potentially interested customers. There's no worse way to push away new patrons than to have a lengthy line outside your restaurant – especially when customers are hungry. 
The second major benefit is that the Eats365 Queue Ticket Kiosk is cloud connected to all other relevant Eats365 modules. This means that staff in the restaurant can actively monitor and view the status of queues directly through the Eats365 POS. They can also indicate to customers when their tables are ready directly through the POS without needing to interact with the Queue Ticket Kiosk at all. 
10 General Benefits of Eats365's Queue Ticket Kiosk
Shorter Queues
By having a queuing system that can help you manage waiting customers better, there will be less confusion and therefore faster service and shorter queues. 
Quicker Turnover
With queue statuses clearly available to waiting customers and restaurant staff, there will be little delay when tables are freed up. This means customers know exactly when their tables are ready and staff can serve them faster without having to manually walk over to find waiting customers, leading to quicker turnover.
Improved Automation
Increasing the amount of automation in any restaurant is a good thing. Reducing the menial tasks that staff otherwise have to do and may make errors on not only helps keep your restaurant running smoothly, but it also saves you money in the long run.
Cloud Connected
Your Queue Ticket Kiosk is cloud connected to all other relevant Eats365 modules. This means that important data like table availability and the number of people waiting is accessible to staff at all times and data is transferred between restaurant devices seamlessly. 
QR Code Tracking
Give customers the freedom to not be tethered in line. Being able to scan their ticket QR code through mobile devices allows customers to do other things while they wait and not clog up the front of your restaurant, which could put off interested diners. 
Improved Customer service
By not requiring customers to wait in line, they have a better overall experience. Queuing is possibly one of the most frustrating aspects of dining out, and by streamlining and reducing the hassle that usually comes along with it, you inevitably end up making customers feel less stressed.
Reduce Staff
Hiring staff to call out ticket numbers and manually keep track of waiting customers can be a drain on resources. By allowing wait staff or managers to directly manage the queue status through your POS, you reduce the need to pay another member of staff. Besides, wait staff and managers have the best view of tables and will know when the best time to call the next group of customers is. 
Easy Queue Management
Staff do not need to step outside to manage queues manually. They can simply keep track of everything from the POS and call the next table directly with just a few taps. This will result in the Queue Ticket Kiosk automatically showing which ticket number is ready to be seated and waiting customers can seek out a member of staff accordingly. 
Save Customers' Time
Not requiring customers to be tethered in line can save them a lot of time. While they wait, they can do other things since they can actively track their ticket status from their mobile devices.
Compact Form Factor
The Eats365 Queue Ticket Kiosk fits into the form factor of an iPad, which makes it very easy to place anywhere inside or outside your restaurant. Simply add a stand and a ticket printer and you're good to go.