New Feature: Automatically Calculated Percentages for Restaurant Daily Sales Report
View your restaurant's key sales data as percentages for a clearer view on your business' performance
---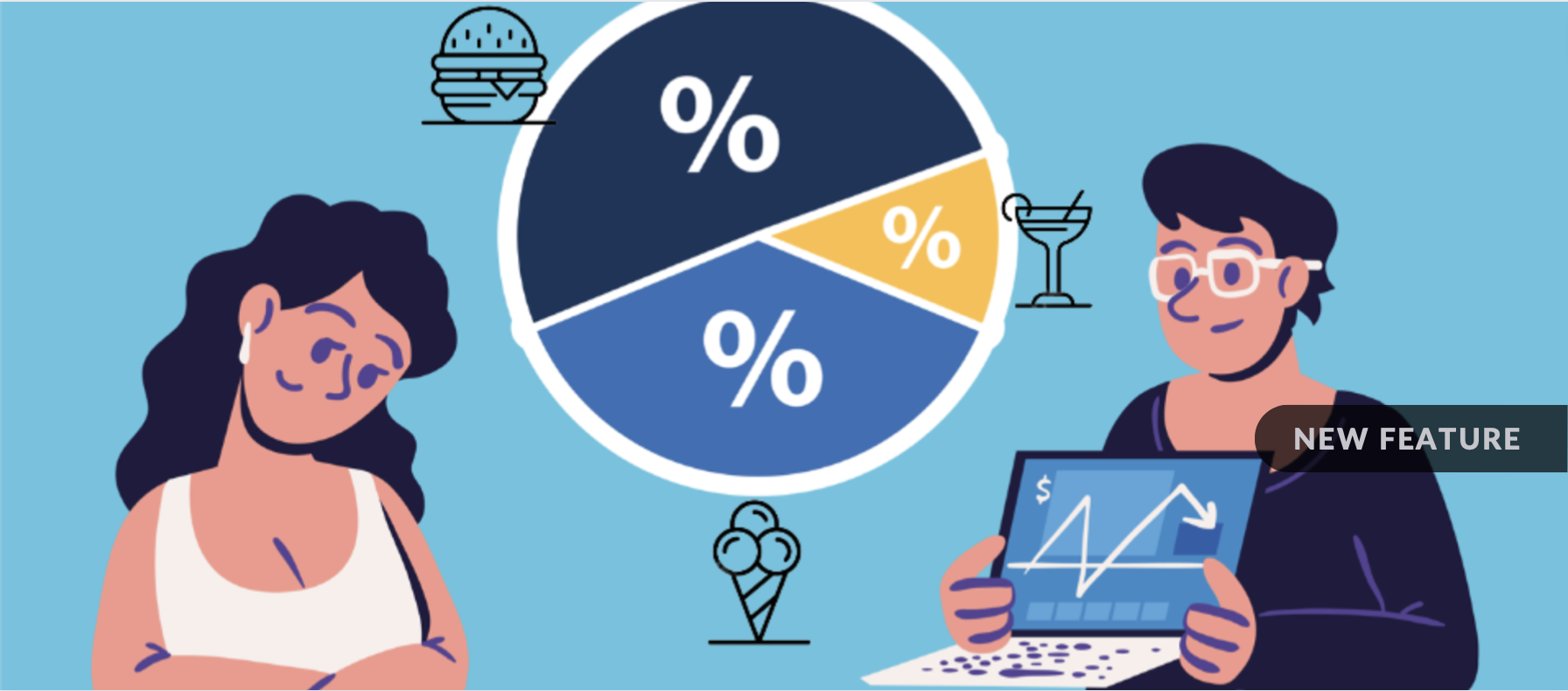 By implementing daily sales reports, restaurant businesses can benefit from accurate financial reporting, improved inventory management, better customer service, increased efficiency, and increased profitability. This will help restaurant owners and managers better track daily sales and optimize their bottom line.
5 Benefits of Having a Daily Sales Report for Your Restaurant
1. Accurate Financial Reporting for Reconciliation: A daily sales report allows restaurants to accurately track their daily income, helping them make more informed decisions about their daily operations. This helps ensure that all expenses are properly accounted for and recorded with any errors being detected early.
2. Improved Inventory Management: With a daily sales report, restaurants can quickly adjust their inventory levels in order to meet daily demand. This helps them avoid over-ordering and makes it easier to plan for future orders.
3. Better Customer Service: With daily sales reports, restaurants can analyze customer data to identify trends in their daily transactions and purchases. This allows them to anticipate customer needs and create better strategies for responding to them accordingly.
4. Increased Efficiency: Real-time daily sales reports allow restaurants to streamline their daily operations, leading to shorter transaction times and fewer errors. This helps them reduce labor costs as well as increase customer satisfaction.
5. Increased Profitability: With accurate daily sales data, restaurants can identify areas of potential growth in order to maximize profits. They can also track daily performance and address any potential issues quickly, enabling them to more efficiently run their business.

Automatically Calculating Percentages Leads to Better Accounting Visibility and Business Decisions
Calculating daily sales reports into percentages provides a variety of business benefits to restaurants. By tracking daily sales figures in this way, restaurants can gain real insights into their performance. It provides owners and operators with understandable, clear data they need to make more informed decisions about how to best use their resources and grow the business. With daily sales reports broken down in terms of percentages, restaurants can easily compare daily performance with previous days or weeks and identify opportunities for improvement. This could be anything from making menu changes or launching promotional campaigns for certain best-sellers at specific times of the day or year. With daily sales reports broken down into percentages, restaurants can also accurately measure the impact of changes they make to their operations which allows them to fine tune their strategies in order to maximize profits. All of this adds up to a more profitable and successful restaurant business overall.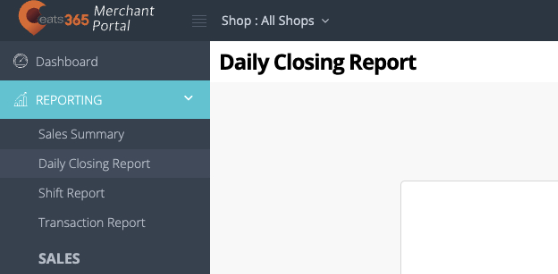 How to View Daily Sales Report Percentages on Your Eats365 Merchant Portal
1. Log in to your Merchant Portal account
2. Click on the Reporting tab in the side menu
3. Click on Daily Closing Report
4. Your sales data will automatically be converted into percentages in a new column
5. You can also specify a specific duration of time to see sales percentages of certain days, weeks, months or years.
You can find some examples below: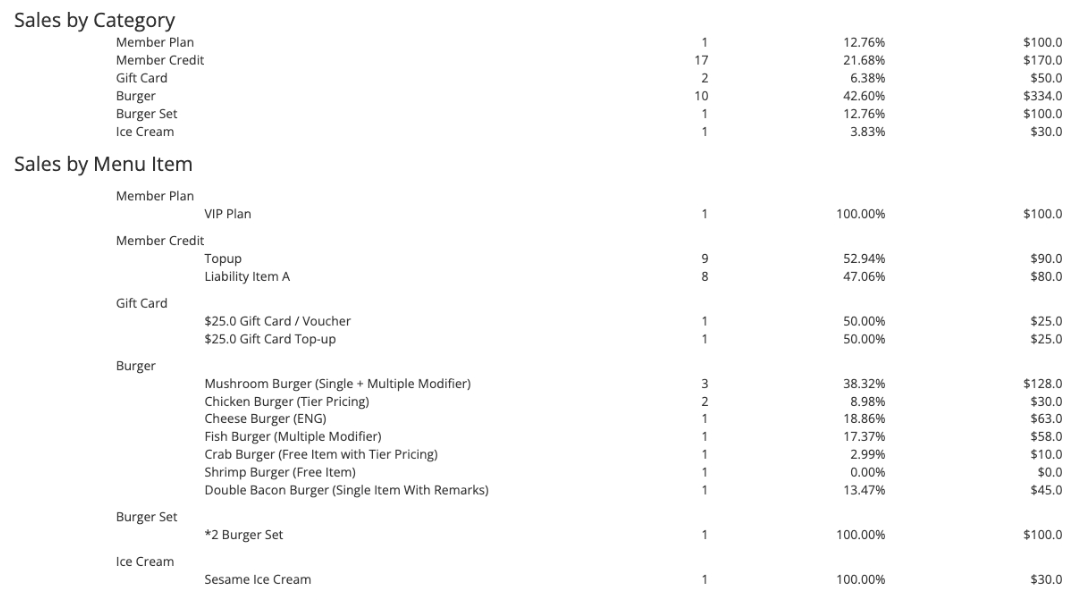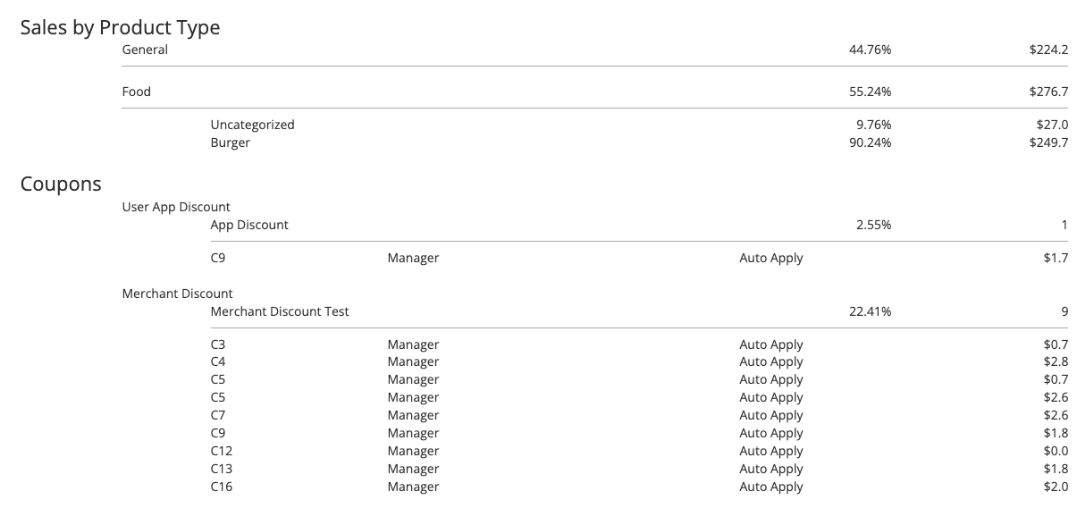 What Type of Sales Data is Broken into Percentage Form?
1. Sales by Period for 'Dine-in' Orders
2. Sales by Period for 'Takeaway' Orders
3. Sales by Period for 'Other ' Orders
4. Sales by 'Category'
5. Sales by 'Menu Item'
6. Sales by 'Product Type'
7. Sales by 'Coupon'

Need this feature for your restaurant? Get in touch with an expert now!
Our site uses cookies to ensure you have the smoothest experience possible. Cookies help us save your preferences, keep our site secure and to gauge how effectively our site is performing. You can learn more by visiting our
Cookies Policy Page
,
Privacy Policy
or
Terms Page
.