Singapore Named as Asia's Food Tech Capital According to New Report
Why is Singapore regarded so highly compared to other Asian nations when it comes to food tech?
---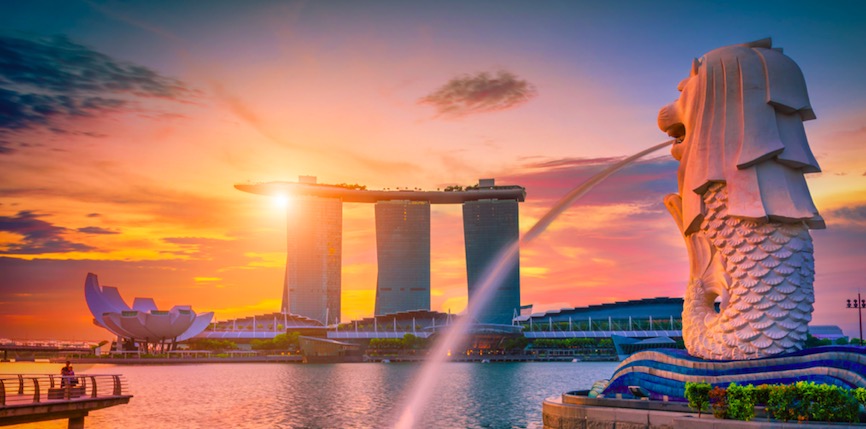 Singapore Leads Asia in Food Tech Rankings
According to recent reports, Singapore is pulling ahead of other Asian cities when it comes to adopting unique food tech that will give the city a culinary advantage in the coming years. Backed by a huge government investment of SGD 100 billion (USD72 billion), Singapore's food tech industry is gaining the type of traction that could lead to major new advancements that could change the culinary landscape as we know it. In addition to this, the Singapore government is also launching a "S$140 million (US$101 million) self-sufficiency plan to ramp up local food production to 30% by 2030." Aside from direct funding, the Singapore government also hosts several food tech events that attract the brightest food tech minds from around the world. Just a few of the events held in Singapore include "ID Capital's Future Food Asia and Rethink Event's Asia-Pacific Agri-Food Innovation Week."
Why has the Singapore Government Invested So Heavily in Food Tech?
Currently, Singapore is largely reliant on imported foods to keep its people fed as "Singapore is a heavily urban city-state that imports 90% of its food, largely due to its limited land space." This poses a huge problem as Singapore aims to take their food production needs into their own hands. In fact, just last year in 2019, the Singapore government announced that it seeks to "produce 30% of the country's nutritional needs locally by 2030." Aside from the need to rely on other countries for its food needs, the Singapore government sees global climate challenges as a potential disaster for the food-reliant nation. Singapore's top government officials often state that investing in the food tech sector is part of "the city-state's plan to face inevitable climate-related challenges in the future including food insecurity."
How Has Government Investment Helped So Far?
With the world's food-producing nations facing unpredictable climate change that could wipe out crop yields and staple foods that Singapore relies on, government investment has been put to good use in creating alternative food sources that can be developed and grown directly in Singapore. Additionally, with the government and many Singaporeans agreeing that the city needs to tackle the unsustainable nature of current animal protein consumption and production, a new wave of established and startup health and nutrition companies have emerged to offset the greenhouse gas emissions and deforestation this industry produces. 
Andrew Ive, founder of Big Idea Ventures, has invested in a lot of food tech startups in different countries around the world. He states that, "At Big Idea Ventures we have worked with many different governments but without question Singapore has put all of the resource into the food sector above and beyond what we have seen. It is quite incredible to see all arms of the government from investment, development, research and regulatory work together to drive this sector."
Sonalie Figueiras, founder of Green Queen Media, praised the Singaporean government's efforts in food tech as she stated, "Singapore has truly forged itself as the food tech ecosystem in Asia thanks to an incredibly supportive government, some of the region's best industry events and pioneering entrepreneurs choosing to make the city their headquarters."
Promising New Food Tech Startups in Singapore
Startups have started blossoming in Singapore as they are seeing unprecedented levels of support from the government. Alongside all the support previously mentioned, the Singapore government is paying special heed to new startups by "matching the amount of funding Singaporean startups raise." This has led to a groundswell in "growth of some of the most groundbreaking companies with leading sustainable food solutions to set up shop in the city."
The companies currently thriving in Singapore range from "Shiok Meats' cell-based shrimp that will help combat plastic pollution, species extinction and food traceability issues to Life3 Biotech's algae-based protein, Karana's young jackfruit-based whole food meat alternative and TurtleTree Labs' world's first lab-grown dairy and human breast milk." 
Additionally, "the Singapore government's investment arm, Temasek Holdings is active in the space too: it has invested in Sustenir, which produces foreign crops in lab-controlled vertical farms powered by artificial intelligence and LED lighting."
Furthermore, "Swiss food technology provider Bühler Holding AG, together with Givaudan, announced a new Innovation Center dedicated to plant-based food in Singapore."
Our site uses cookies to ensure you have the smoothest experience possible. Cookies help us save your preferences, keep our site secure and to gauge how effectively our site is performing. You can learn more by visiting our
Cookies Policy Page
,
Privacy Policy
or
Terms Page
.