Hong Kong and Singapore Star in Asia's 50 Best Restaurants: 2021 List
Hong Kong and Singapore combined to make up nearly 40% of Asia's top 50 restaurants in 2021
14 Apr 2021
Asia's 50 Best Restaurants Award– What Is It?
The goal of the Asia's 50 Best Restaurants List is to celebrate the best culinary offerings from within Asia and compile the 50 best examples for diners from around the globe. This way, foodies will know which cities to pay a visit to for the ultimate Asian culinary travel experience.
The list of 50 restaurants is carefully curated by a group of more than 300 Asian restaurant industry leaders and pioneers that have all made a large impact on Asia's culinary landscape. Each expert has been selected to provide invaluable insights through their industry experience while also offering a critical eye and unique viewpoint. 
In terms of which regions are represented in the list, "Asia's 50 Best Restaurants takes in six voting regions: India & Subcontinent; South-East Asia – South; South-East Asia – North; Hong Kong, Taiwan & Macau; mainland China & Korea; Japan."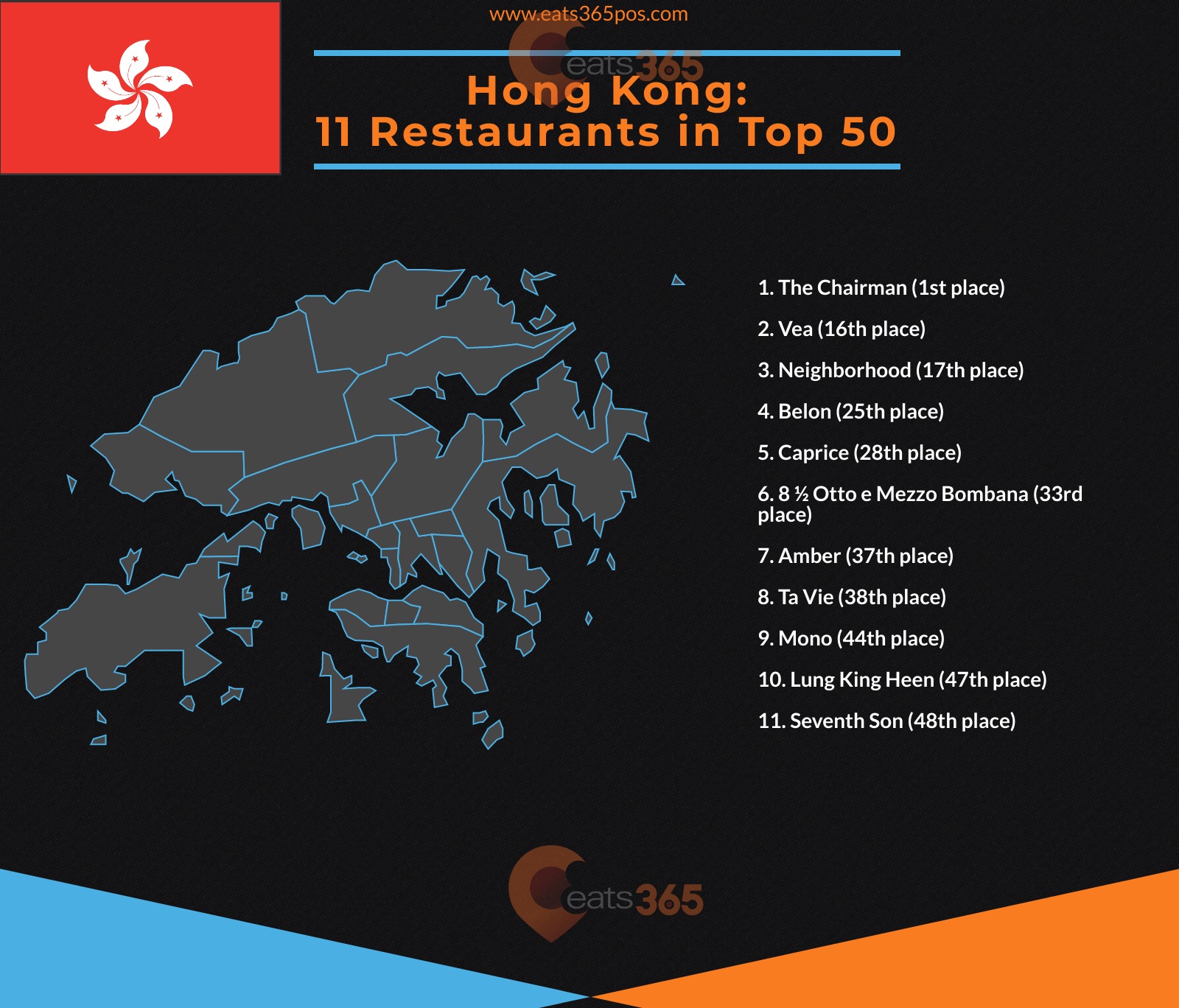 Hong Kong's First Ever 1st Place Entry
This year, Hong Kong took home the top prize as The Chairman, a Cantonese restaurant from Hong Kong's Central District came out on top to take the coveted number 1 spot on the list. Not only was this the first time that a Hong Kong restaurant has claimed first place, but it is also the first time a Chinese cuisine restaurant has taken the top prize. 
The Chairman adopts a unique cooking philosophy that relies on fresh ingredients and simple cooking. Rather than compete with restaurants looking to create dishes that are larger-than-life, flamboyant and over-the-top, The Chairman believes that the ingredients "taste exactly as they should be" in order to preserve the authenticity of Cantonese cuisine.
They prepare whatever ingredients possible on their own, which includes "shrimp oil, spicy oil, chicken oil, green onion oil, lemongrass oil." They even cure their own meats, make their own pickles and cure their own salted eggs. 
Finally, The Chairman extends its philosophy of natural cuisine and ethical cuisine by not offering environmentally-damaging dishes like "shark's fin, sea cucumber and bird's nest."  
11 Hong Kong Restaurants Feature in Asia's Top 50 
In all, there were 11 Hong Kong restaurants that featured in the Top 50 list. These include:
1. The Chairman (1st place)
2. Vea (16th place)
3. Neighborhood (17th place)
4. Belon (25th place)
5. Caprice (28th place)
6. 8 ½ Otto e Mezzo Bombana (33rd place)
7. Amber (37th place)
8. Ta Vie (38th place)
9. Mono (44th place)
10. Lung King Heen (47th place)
11. Seventh Son (48th place)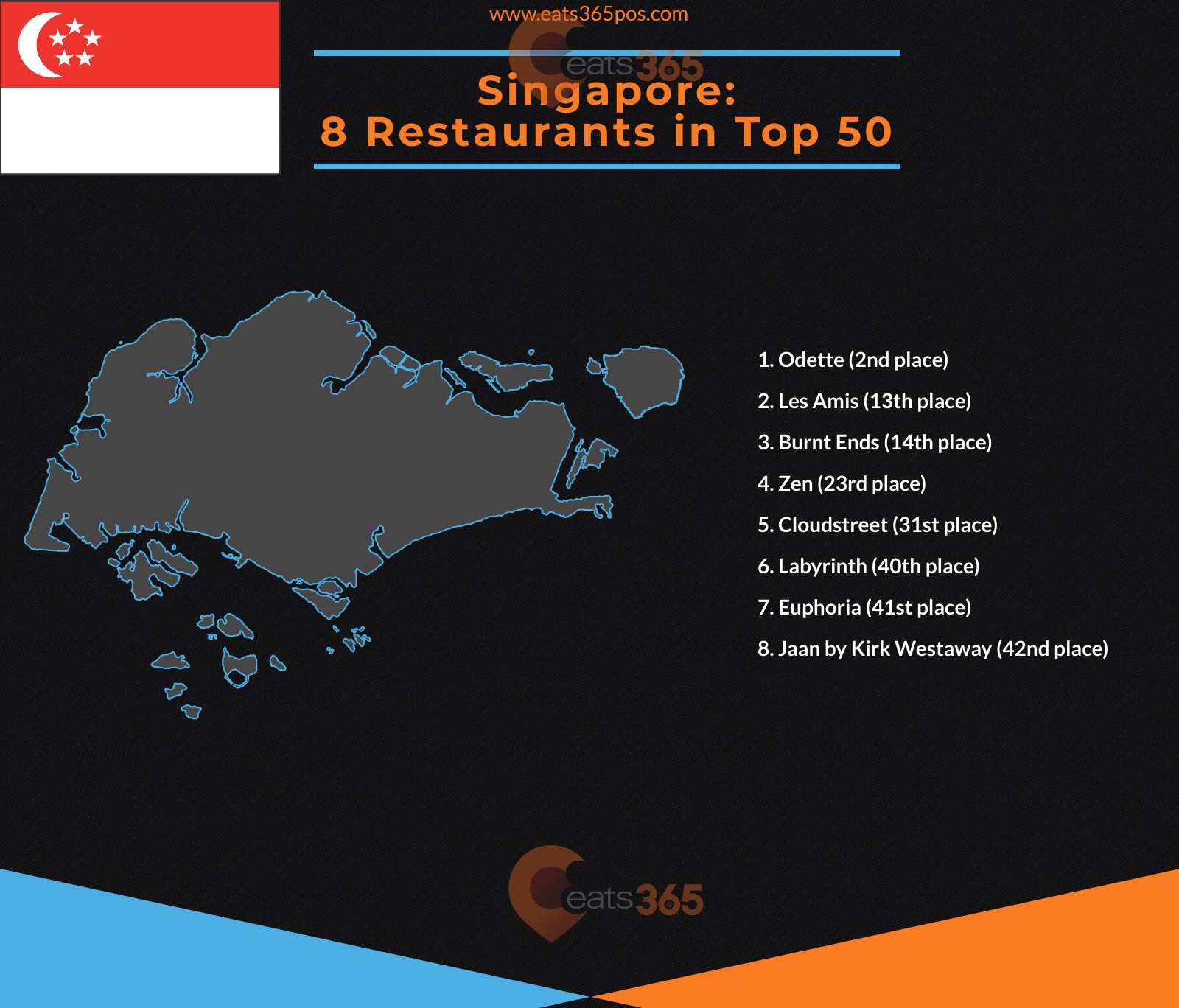 Second Place Entry Snagged by Singapore
Odette, a restaurant located in the National Gallery Singapore, is focused on creating timeless fine-dining French cuisine. The dishes served at Odette are all inspired by chef Julien Royer's grandmother, Odette, who taught him the importance of using pure ingredients and adding a little something extra to each dish. Chef Royer also states that his grandmother's ability to convey love through food is a driving factor behind the food at Odette. 
The overall philosophy of Odette's cuisine is to marry the very best produce and utilize each ingredient to bring out its purest flavors. The food at Odette is also paired with exquisite wines, which Chef Royer believes acts as the perfect companion and as a way to accent the dining experience. 
The restaurant, itself, also serves as a way to project chef Royer's culinary philosophy. Working in tandem with Singaporean artist, Dawn Ng, the art in the restaurant deconstructs some of the fine ingredients used in various dishes and "re-imagines [them] into a surreal universe of shapes and forms that float and settle, drift and pirouette."
The interior design at Odette is fitting of the National Gallery's endorsement as it was crafted by Sacha Leong to reflect chef Royer's "approach of keeping the integrity of ingredients with a soft color palette and décor that is comfortably elegant." The glass-enclosed kitchen is another standout feature of the restaurant where diners can watch their dishes being prepared.
8 Singapore Restaurants Feature in Asia's Top 50 
1. Odette (2nd place)
2. Les Amis (13th place)
3. Burnt Ends (14th place)
4. Zen (23rd place)
5. Cloudstreet (31st place)
6. Labyrinth (40th place)
7. Euphoria (41st place)
8. Jaan by Kirk Westaway (42nd place)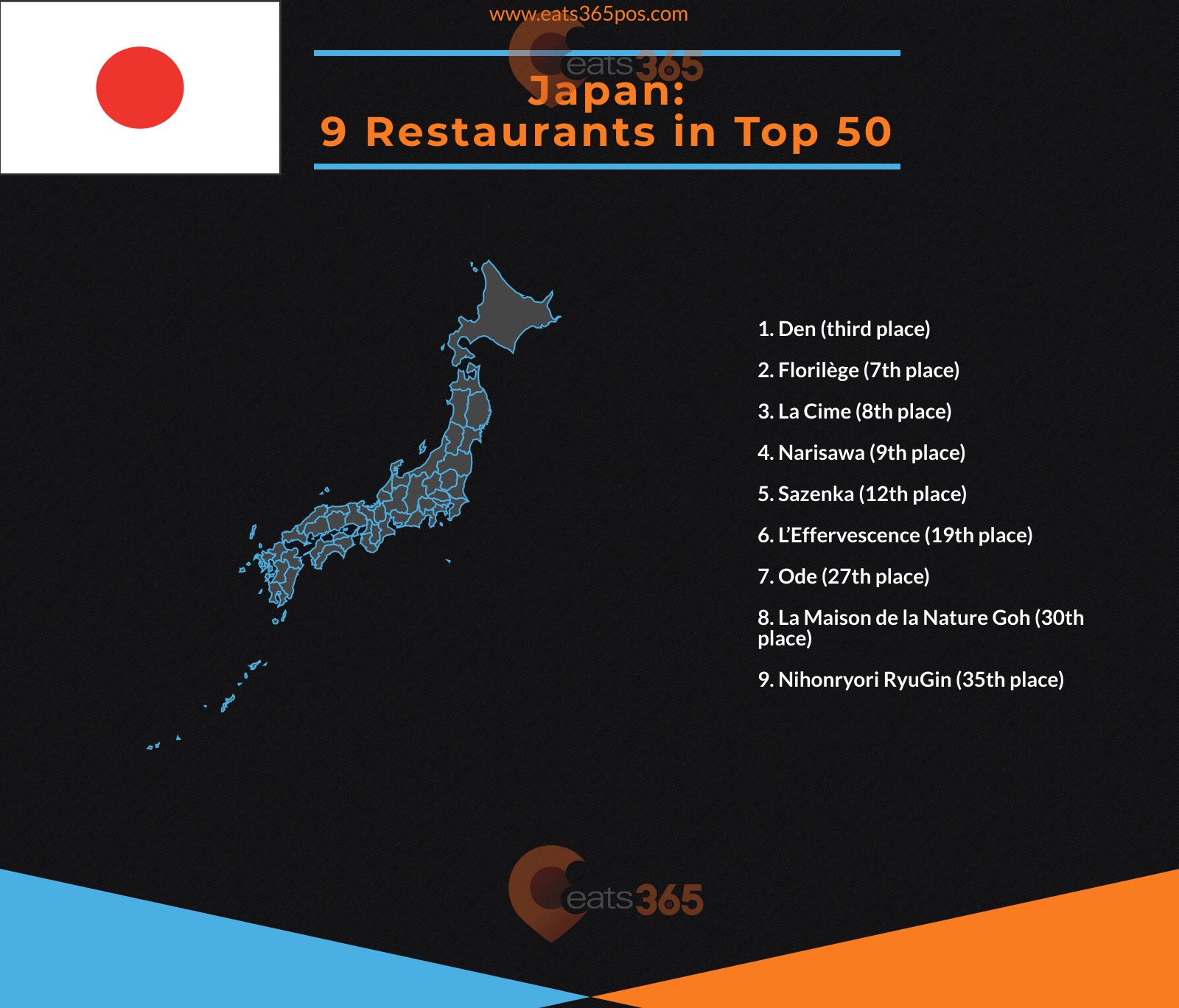 9 Japanese Restaurants Feature in Asia's Top 50
1. Den (third place)
2. Florilège (7th place)

3. La Cime (8th place)
4. Narisawa (9th place)
5. Sazenka (12th place)
6. L'Effervescence (19th place)
7. Ode (27th place)
8. La Maison de la Nature Goh (30th place)
9. Nihonryori RyuGin (35th place)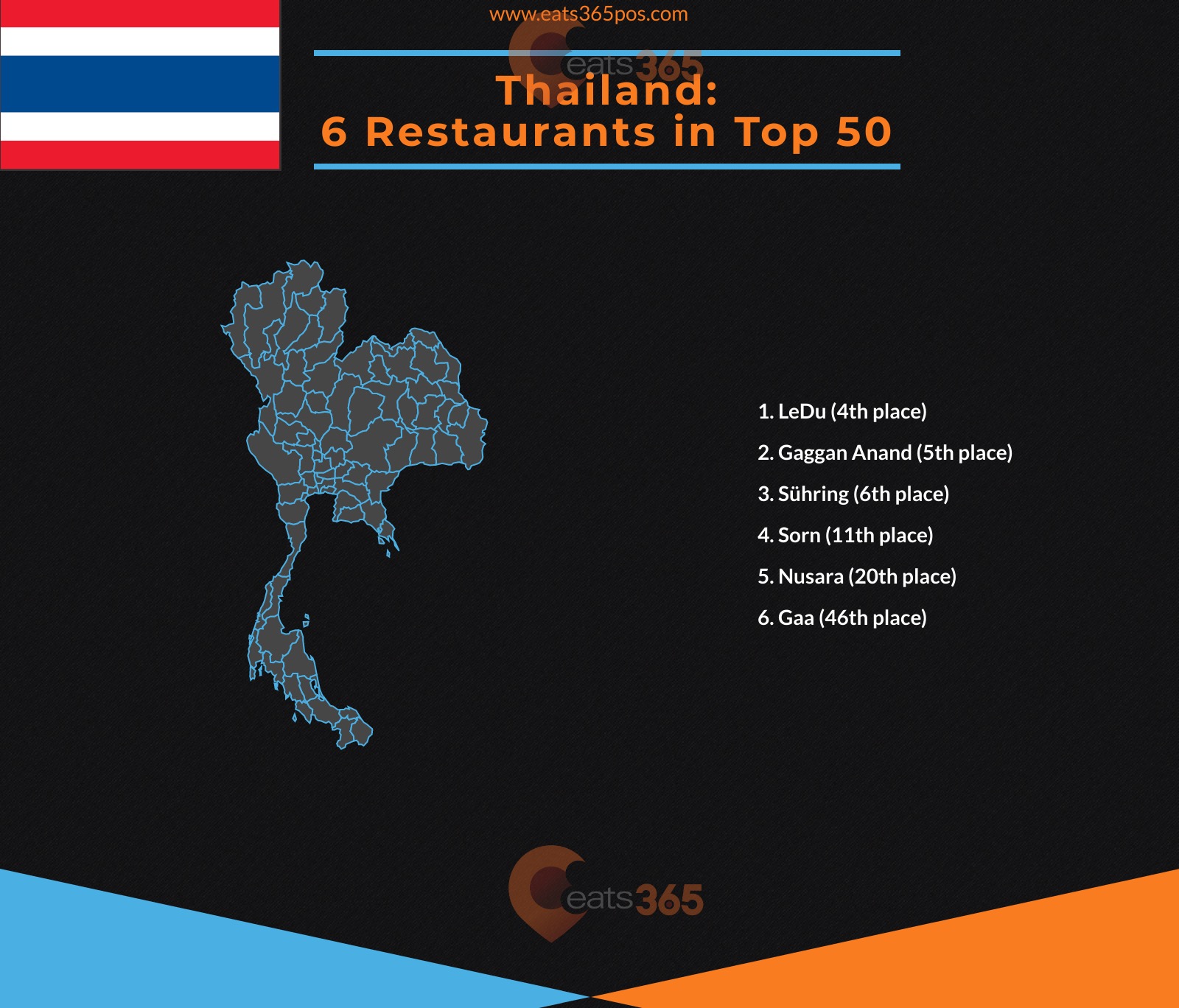 6 Thai Restaurants Feature in Asia's Top 50
1. LeDu (4th place)
2. Gaggan Anand (5th place)
3. Sühring (6th place)
4. Sorn (11th place)
5. Nusara (20th place)
6. Gaa (46th place)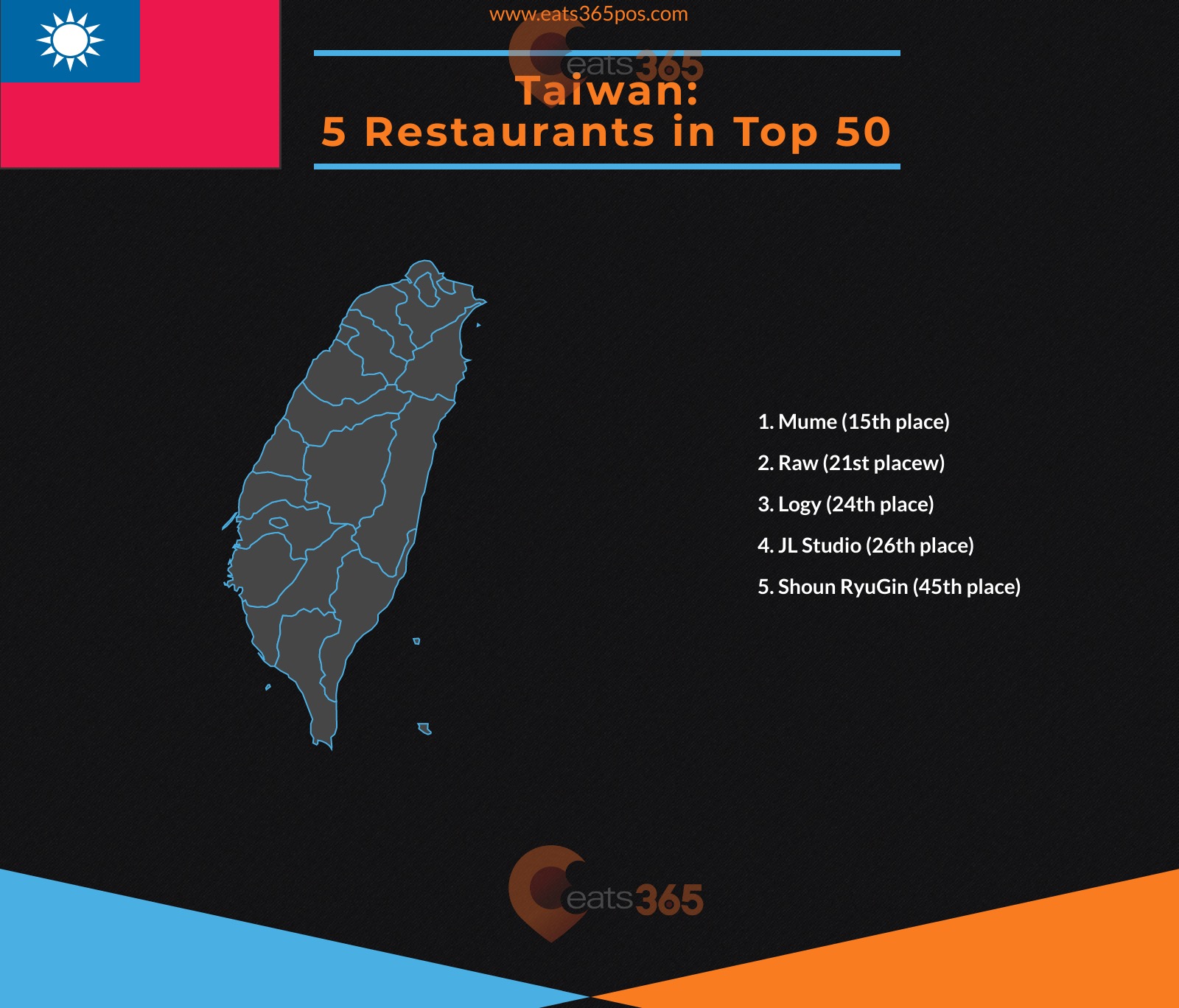 5 Taiwanese Restaurants Feature in Asia's Top 50 
1. Mume (15th place)
2. Raw (21st placew)
3. Logy (24th place)
4. JL Studio (26th place)
5. Shoun RyuGin (45th place)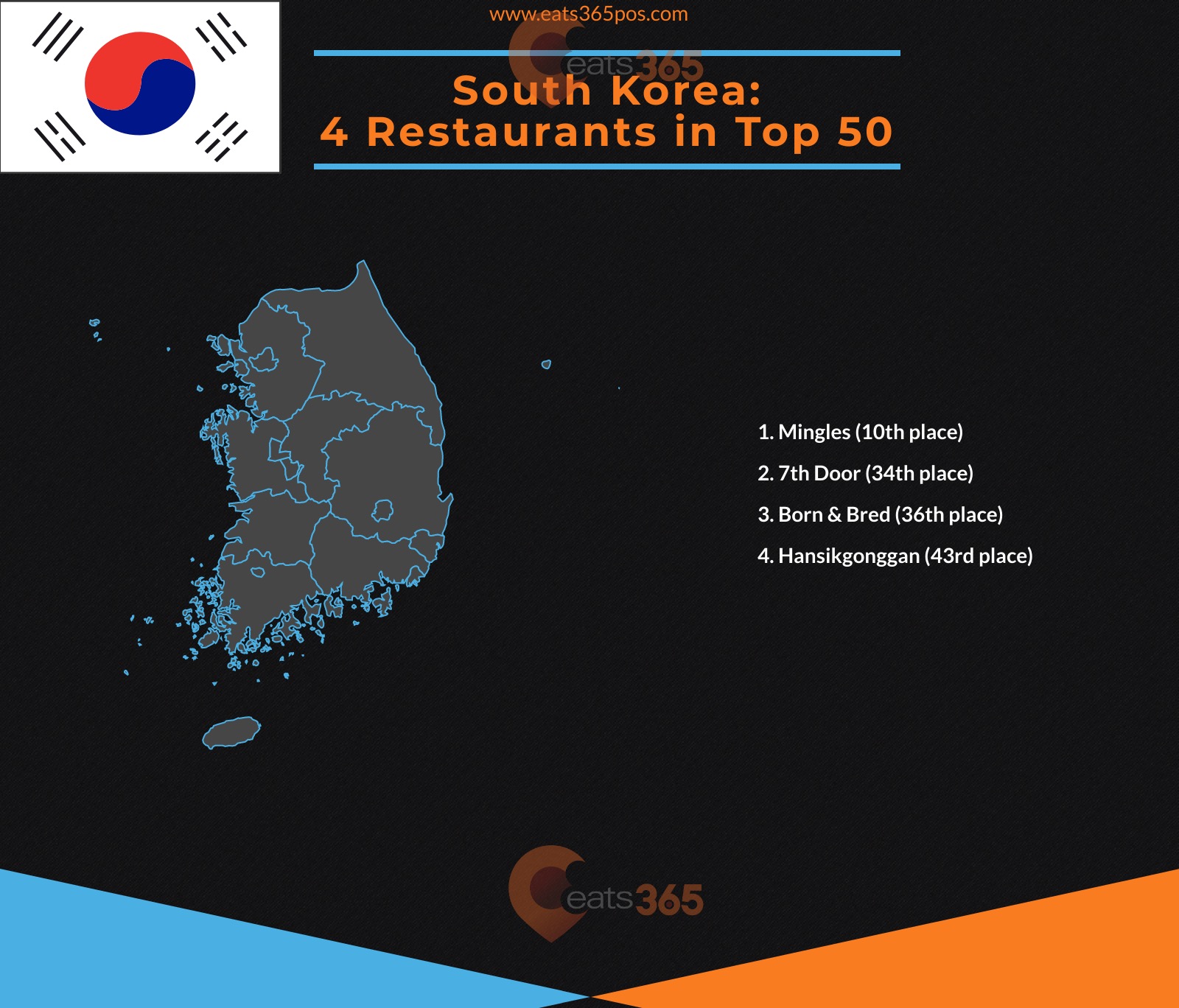 4 South Korean Restaurants Feature in Asia's Top 50
1. Mingles (10th place)
2. 7th Door (34th place)
3. Born & Bred (36th place)
4. Hansikgonggan (43rd place)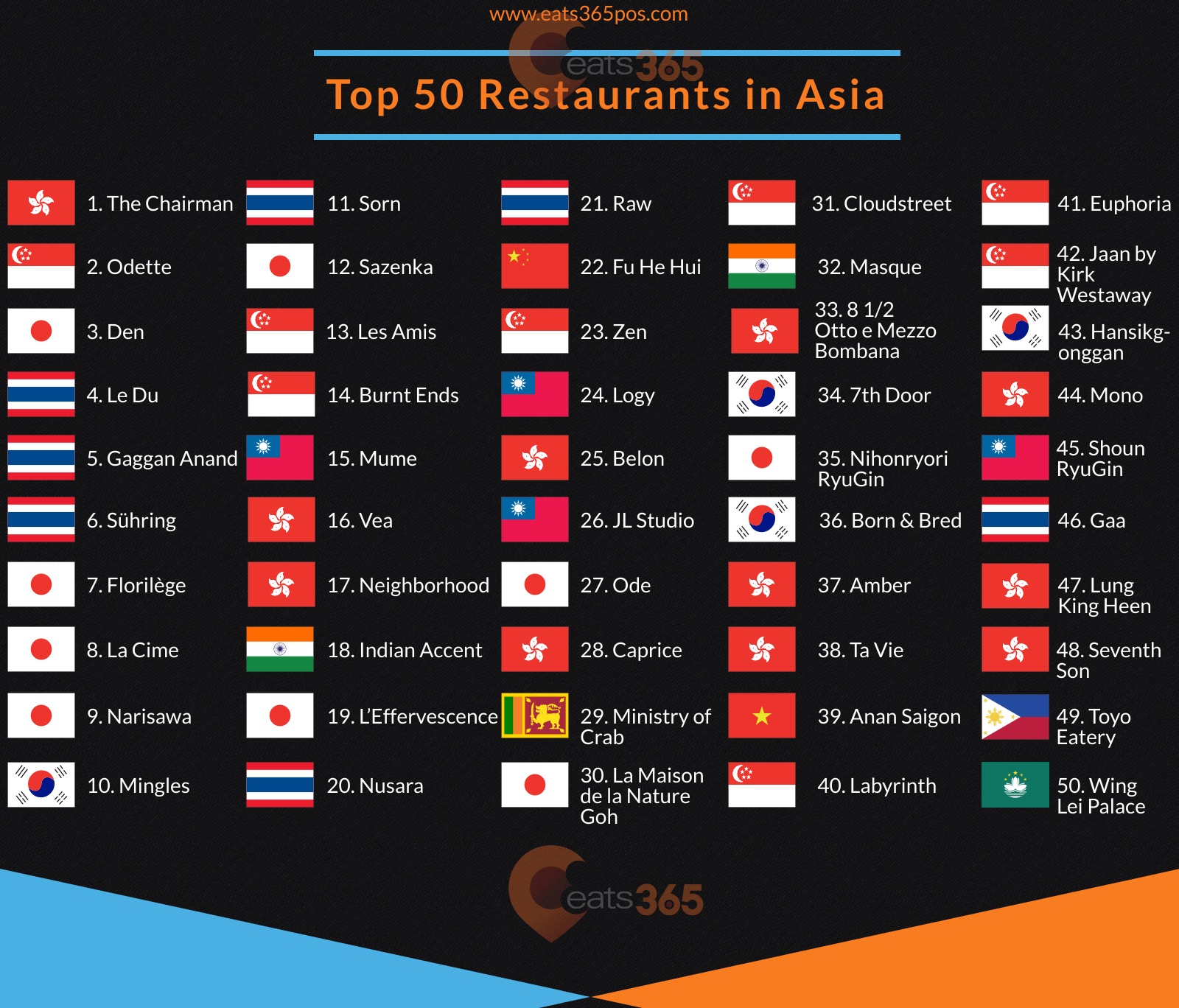 Full List of Asia's 50 Best Restaurants
1. The Chairman – Hong Kong
2. Odette - Singapore
3. Den - Japan
4. Le Du - Thailand
5. Gaggan Anand - Thailand
6. Sühring - Thailand
7. Florilège - Japan
8. La Cime - Japan
9. Narisawa – Japan
10. Mingles – South Korea
11. Sorn – Thailand
12. Sazenka - Japan
13. Les Amis - Singapore
14. Burnt Ends - Singapore
15. Mume - Taiwan
16. Vea – Hong Kong
17. Neighborhood – Hong Kong
18. Indian Accent - India
19. L'Effervescence - Japan
20. Nusara - Thailand
21. Raw - Taiwan
22. Fu He Hui - China
23. Zen - Singapore
24. Logy - Taiwan
25. Belon – Hong Kong
26. JL Studio - Taiwan
27. Ode - Japan
28. Caprice – Hong Kong
29. Ministry of Crab – Sri Lanka
30. La Maison de la Nature Goh - Japan
31. Cloudstreet - Singapore
32. Masque - India
33. 8 1/2 Otto e Mezzo Bombana – Hong Kong
34. 7th Door – South Korea
35. Nihonryori RyuGin - Japan
36. Born & Bred – South Korea
37. Amber – Hong Kong
38. Ta Vie – Hong Kong
39. Anan Saigon - Vietnam
40. Labyrinth - Singapore
41. Euphoria – Singapore
42. Jaan by Kirk Westaway - Singapore
43. Hansikgonggan – South Korea
44. Mono – Hong Kong
45. Shoun RyuGin - Taiwan
46. Gaa - Thailand
47. Lung King Heen – Hong Kong
48. Seventh Son – Hong Kong
49. Toyo Eatery – Philippines
50. Wing Lei Palace - Macau