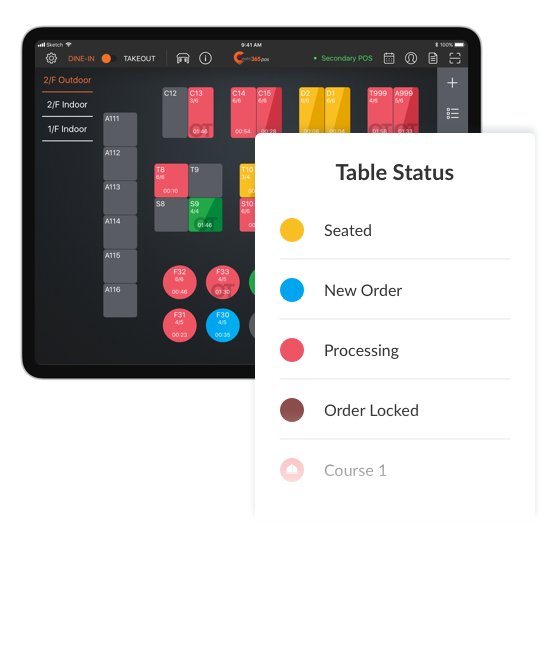 Floorplan Management
Give your staff a full view of what's going on in your restaurant. Set different areas, the number of tables and even choose the number of floors in your restaurant. You have the flexibility of managing everything right down to the shape and capacity of each table.
Take out and Delivery
Make your business as versatile as possible and choose between takeout and delivery modes directly from the POS, you can now manage different sets of orders in an organized and systematic way.

Transfer, Merge and Share Tables
Let your customers sit where and how they like. With our POS, your waiters can quickly transfer, merge or share tables to make the best use of your restaurant's space and meet the needs of customers.
Color-Coded Statuses
Staff can proactively manage tables to offer the best customer experience possible while utilizing maximum efficiency. Tables are highlighted in different colors to indicate useful information such as which customers are waiting on meals, which tables need their bills, which tables need cleaning and which are empty.
Integrated Queuing System
Seat customers faster by managing queues directly from your POS. Our intuitive queuing system lets your staff see queue ticket numbers, how many people per party and elapsed waiting times. You can then directly assign seats as desired which automatically updates across the system.

Manage Kitchen Stations
Want certain tickets and items to go to different kitchen stations? You can set up specific kitchen stations and set items to be fired to those stations, exclusively.